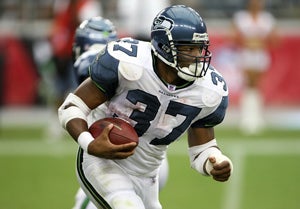 Well, McNabb is nearly done taking out his frustration on the Lions, Steven Jackson still refuses to score a touchdown, and my Bills got their now 0-3 asses handed to them. Whatta say we get to these four o'clock games, eh?
Cincinnati at Seattle, CBS
Last week, the Bengals "defense" gave up 554 yards to the Cleveland Browns in a 51-45 loss. Matt Hasselbeck and Shaun Alexander better be drooling.
Cleveland at Oakland, CBS
Sebastian Janikowski is still pissed about Mike Shanahan's timeout shenanigans. He'll probably kick like one, maybe two, field goals today. Watch out!
Jacksonville at Denver, CBS
The Broncos are funny. Jason Elam has kicked back-to-back game-winning field goals, but has missed three of his other seven field-goal attempts. The Broncos have also piled up an NFL-high 911 total yards, but have only managed to score three touchdowns.
New York Giants at Washington, FOX
Did you the know the Redskins are going to win the Super Bowl? Someone from D.C. told me so.
Carolina at Atlanta, FOX
The Falcons are trying to avoid an 0-3 start in coach Bobby Petrino's first season, and quarterback Joey Harrington is trying to save his job after Atlanta's signing of veteran Byron Leftwich on Tuesday. Thats a lot of saving.