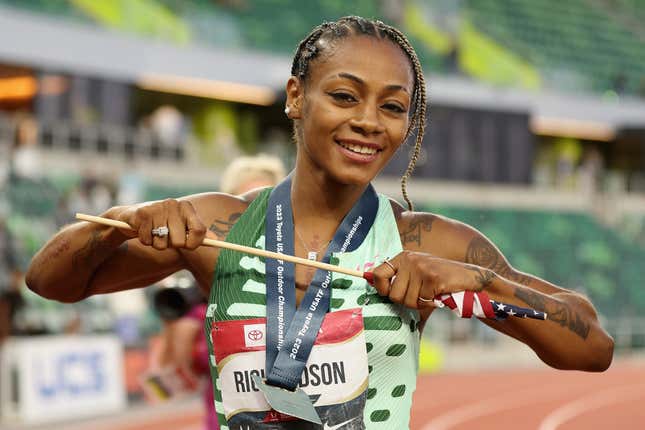 If a young, talented, and boisterous Black woman bothers you, then divert your eyes from track and field — also, you're probably racist. Sha'Carri Richardson's feet torched the track at the 2021 Olympic Trials. Unfortunately for her, much of her career following her dynamic performance was littered with setbacks. On Friday however, she made a thunderous return to the top at the U.S. Championships.
How running an NFL team is like running a restaurant | Chef Emeril Lagasse
Don't call it a comeback
Richardson had a rough start coming out of the blocks in the women's 100 meter dash finals, but she quickly recovered. It took her 10.82 seconds to finish her wig-less romp to a championship.
It has been two long years since she won that Olympic trial race. The women's collegiate 100-meter dash record holder had to bide her time after COVID delayed the 2020 season. Richardson won the 100 meter dash at the U.S. Olympic Trials the following year. She won that race one week after a journalist informed Richardson that her biological mother had passed.
That breaking of the tape, embrace with her family, and interview when she startled NBC Sports' Lewis Johnson with the news of her personal loss was the peak of a career that quickly valleyed.
She tested positive for cannabis at the Olympic trials and was suspended for one month. That suspension made her ineligible to compete in the individual 100 meter dash. Her suspension would have ended before the 4x100 meter relays, but USATF decided to not allow her to compete in the 2021 games.
What followed was a young woman who had to learn how to deal with a public shame on the fly. That year, Usain Bolt and Allyson Felix were both asked what advice they would have for Richardson. She didn't appreciate that advice said into microphones as opposed to her personally, and let that be known on social media. Richardson returned to the national stage for the 2022 U.S. Championships, and was eliminated from competition in the first-round of the 100 meter dash. She did have the opportunity to run against the best in the world at the 2021 Prefontaine Classic but came up way short. Richardson finished last while Elaine Thompson-Herah of Jamaica ran the second-fastest women's 100 of all time, but she did not take her defeat quietly.
A public failure of that nature is unpleasant in and of itself. Suffering that at 22 years old while being used as an avatar for people's societal viewpoints can make the experience toxic. America had a great showing at the 2022 World Athletic Championships without her, but the event would have been far better for the team if she was competing against Thompson-Herah, Shelly-Ann Fraser-Price, and Shericka Jackson of Jamaica.
Get ready to see a lot more of Sha'Carri Richardson
Richardson has spent 2023 hot on the comeback trail. Going into the U.S. Championships she had already broken 11 seconds twice this year. Her trajectory is soaring upward. That 10.82 final wasn't even her best time of the event — she ran 10.71 in the prelims. In the 200 meter preliminary on Saturday, her dominance continued with her 21.61 victory.
Whether she wins the 200-meter final on Sunday or not, this American sprinting prodigy has reasserted herself as one of the top athletes in the world. The World Championships in Budapest begin in 41 days, and if she maintains good health she will have another chance at the Olympics in 2024.
The 100-meter dash only takes 10-11 seconds, but that still is a long sprint. A jumbled start does not mean defeat is imminent. Richardson had a rough start to both her career and her 100 meter final on Friday. In both she has shown the ability to recover and come out on top, and that wig snatch let it be known that she isn't turning down her jets or personality for anyone.