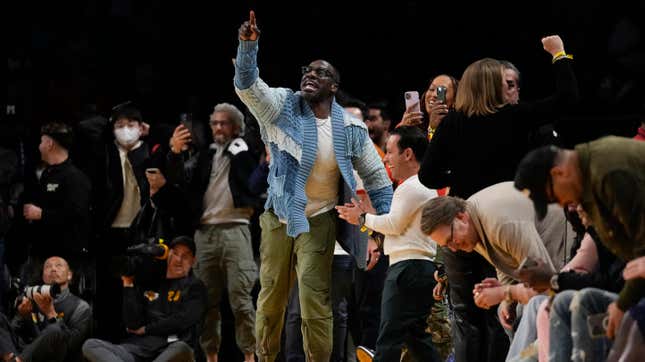 The Memphis Grizzlies have always exuded extreme black Air Force energy. It's one thing for their trash talk to agitate LeBron. However, their penchant for trash talk nearly approached Malice at the Palace levels on Friday night before halftime of a Friday night ESPN matchup against the Los Angeles Lakers, when a screaming match erupted between Dillon Brooks and Undisputed host and NFL Hall of Famer Sharpe, who was seated courtside.

Hey Shannon Sharpe, the Memphis Grizzlies are the NBA's Kings of the Ring
Sharpe stood up and escalated the jawing back and forth, which attracted Grizzlies' center and unofficial team bodyguard Steven Adams. Eventually, Sharpe had to be removed from the sidelines and separated from the Grizzlies and point guard Ja Morant's father, Tee Morant.
While security held Sharpe in the tunnel, Sharpe also granted an interview with ESPN's Dave McMenamin.
Eventually, Sharpe was allowed to return to his seat and he hugged it out with Tee hugged it out and let bygones be bygones.
Trash-talking is Memphis' brand, but this was a bizarre look for a primetime game. Shannon Sharpe knew the cameras were on though and put on a show, but nearly put too much dip on his chip. Instead of sitting down to enjoy the courtside seats, he thought he was a part of the game.
The fans at Staples didn't come to watch him play. I'm sure he'll use this as more fodder to get ratings up on Monday's show.