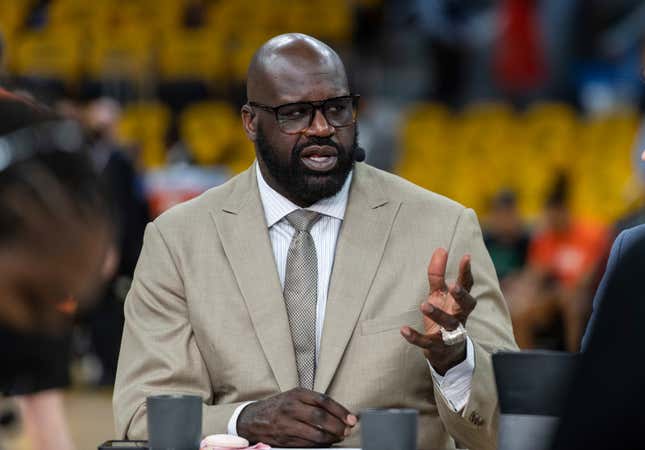 It's not too shocking that athletes or celebrities in general don't know much about whatever they're getting paid to promote. If the check clears is about as much thought as they have to put into it. No one thinks Steve Martin drinks Pepsi in his free time. Or that Brie Larson is tooling around in a Nissan. Or that Fred Astaire is dancing around a Dirt Devil in the afterlife, though perhaps he's using it to clean up his abode wherever that might be. Then again, none of those products are specifically designed to siphon off your money directly, just indirectly. And you get something for that siphoned money, even if it's just diabetes and a funny-looking vehicle.
Grant Hill looks to repeat Team USA's 2004 "success"
But FTX, and crypto in general, are things that were meant to siphon off a whole bunch of people's money, which they did, until they disappeared into the scenery like that one part of Yellow Submarine (you haven't seen it, I know, but just trust me there's a point in the film where everyone ends up in a void). And there are some people who lost a whole bunch of money and are looking for someone to blame — i.e. sue — and a fine target is those who got on TV or social media and told them to chuck their cash into a figurative sinkhole with an electric "This definitely works!" sign next to it. Which is where Shaquille O'Neal finds himself at the moment.
And he's apparently the only one who can find himself.
While the other celebrities named in the suit have been served, it would seem they can't find Shaq anywhere as he is disparu. You wouldn't think a 7-foot-2 man who weighs…well, we'll be kind and say, "enough," could go into hiding, but here we are.
Shaq catches a break as TNT takes a pause from its NBA coverage to dip into the NCAA tournament, and they know enough to know that Shaq doesn't do any research on the NBA so there's no chance he's going to have any idea who's playing in front of him in the college ranks. He's on hiatus, basically. Shaq could remain in his bunker for a couple more weeks. His bunker that's fully stocked with umbrella drinks, to be sure.
However, TNT will return to the NBA at the end of March, and it's not much of a secret where the studio is in Atlanta. One can only imagine the face Charles Barkley will make if Shaq gets served on television, and I've really never hoped for anything more now.
But until then, we have a new Waldo. A Waldo that should be easier to spot, but also one that probably comes with a compound that no one can penetrate. Those books would have been a lot less popular if it were just a picture of a big house with security cameras and he was peaking out from behind a tinted window, though a valuable lesson to kids everywhere on the things they won't have.
I want to buy this Tage Thompson pass a drink
The Buffalo Sabres are fading from the Eastern Conference playoff chase, but that doesn't mean they can't provide fun in the season's last few weeks. They've been a season-long party so far, given the fireworks they can produce and also surrender as head coach Don Granato cackles maniacally behind the bench as yet another four-man forecheck gets beaten up the ice.
They were able to execute some get-back on the Toronto Maple Leafs last night, coming back from 2-0 down to win 4-2 to make up for getting utterly thwacked by the Leafs a couple of weeks ago in Buffalo.
The tying goal came from this feed from Tage Thompson to Alex Tuch, and to describe it as lethal as well as Monet-esque is probably not doing it enough justice:
The finish is punchy as well, as Tuch is able to one-time it as well as get it top shelf from in tight. But the pass is one of those sleight of hand tricks that you didn't even realize happened until it was over. Like Ali's Ghost Punch or the time my father was able to remove his coat and empty the contents of all the pockets at airport security and yet keep his ounce of weed hidden with TSA agents no more than two feet away. Stunning, but only in the aftermath when you appreciate what really happened.