Giants DT Shaun Rogers used to make pretty good money. He got $20 million guaranteed from Cleveland just five years ago. But legal problems (stripper assault, gun at the airport) and health problems mean the 13-year-vet is playing for relative peanuts. Earlier this month, he re-signed with the Giants for a shade over $1 million. He just lost half of that in jewelry stolen from his hotel room.
CBS Miami has the story. Rogers and some friends met a woman at a club and brought her back to his room at the Fontainebleu in Miami Beach. When he woke up shortly after noon, the woman—and the contents of his room safe—were gone. The damage:
Among the items Rogers said were stolen were: diamond earrings worth $100,000; two wristwatches worth a combined $160,000; a gold necklace with gold pendant worth $50,000; gold bracelets worth $60,000; and a diamond Cuban necklace with a gold pendant worth $70,000.
I get the desire to bring valuable bling on vacation. Miami's a trendy place; you want to look good, feel good. And if you bought it, you might as well wear it. But there's really no need to bring two super-expensive watches anywhere, ever. Unless you own a white suit, in which case you obviously need the diamonds to match. Does Shaun Rogers own a white suit? Probably.
(As to buying [at least] 500 grand worth of jewelry in the first place? That's just Exhibit C in why athletes go broke, behind real estate scams and distant family members.)
G/O Media may get a commission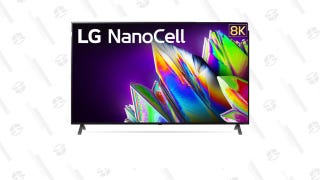 LG 75-Inch 8K TV