University of Tennessee offensive lineman Mack Crowder was arrested in Pinellas County, Fla., on Tuesday, and charged with a number of child sex crimes.
According to the Pinellas County Sheriff's Office, Crowder began talking online with someone who he believed to be a 14-year-old girl, but was really a law enforcement officer. Crowder sent four pictures of "his sexual organ" to the person, and "solicited the minor to engage in sexual acts with him," according to authorities. He was arrested Tuesday when he travelled to Pinellas County to meet with the 14-year-old girl.
Crowder, a 23-year-old redshirt senior, started 14 games at guard and center over the past two seasons, according to Tennessee's website.
Crowder was charged with four counts of transmission of material harmful to minors, and one count of certain uses of computer services prohibited, both of which are third degree felonies. His bond was set at $50,000.
News of Crowder's arrest was first reported by WFLA.
Photo via AP
G/O Media may get a commission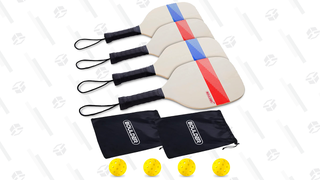 It's Pickleball
Pickleball Sets
---
E-mail: kevin.draper@deadspin.com | PGP key + fingerprint | DM: @kevinmdraper