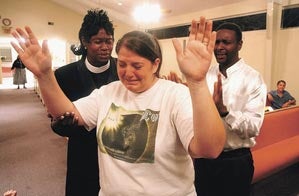 We know this story's from a couple of weeks ago, but we're still rather entranced about it: The mother of a recent Kentucky Wildcats basketball recruit is a real, live prophet.
Naw, really, she's "someone who can prophesize about your future and what's going on in your life." That's helpful!
"The Lord has shown me: They're going to the Final Four," she said, before adding a qualifier, "providing they play together." Was this a prophecy? A prediction? Merely wishful thinking? "I have spoken these things into existence," she said. "It's not by accident that my son is here and now the Final Four is in Michigan."
We really could have used this lady in September: There was money to be made on those Rockies. Though, frankly, we should have known because of, you know, the God thing.
The Kentucky Wildcats Basketball Team Will Have A Little Extra Help This Season [The Angry T]
Basketball Prophesies [Kentucky.com]