What we have here is Shia LaBeouf and his rattail on like a riverbank somewhere, surrounded by a bunch of white people, rapping. Yesterday, the overstaffed People aggregator Gawker wrote about the performance, calling it a freestyle and even giving LaBeouf a legitimate, albeit uncreative rapper name. We at Deadspin listened to the rap and marveled at the dude's many bars. Turns out, the bars weren't his.
A couple of times during his two-and-a-half minute rap — wherein he spoke some nonsense about, "oh shit, I'm still rapping shit," and managed to diss himself a little bit by saying "Transformers is the dummy rap"— Shia straight up ran out of shit to say. Naturally, he started dropping lines stolen from "Perfectionist," a song put out by an obscure rap crew called the Anomolies back in 1999. This is the line:
"I recon you want more of that rare commodity/the quality is what it's gotta be/ and my philosophy is much farther than what your eyes can see."
What?! This is funny as fuck! LaBeouf has a unique ability to troll his would-be fanbase by popping up here and there now and then to embarrass himself in increasingly creative ways. This is just another great example. This is what LaBeouf did just before ending the rap with a line plucked from the Anomolies.
G/O Media may get a commission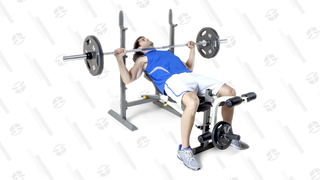 10% Off
Marcy Folding Weight Bench
This is great; Shia LaBeouf is great.