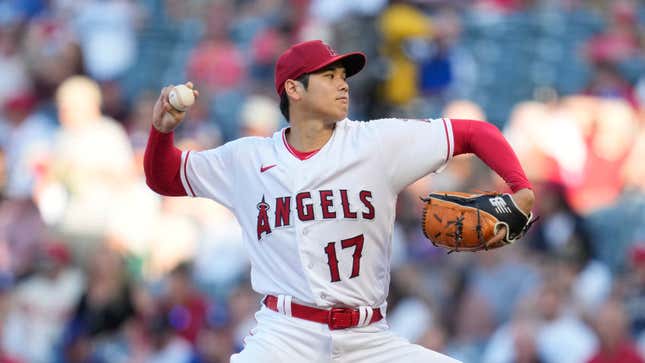 I'm probably the last person to discover that Shohei Ohtani is a Skrull. How else can anyone explain the Angels' shapeshifting MVP? He's simultaneously leading the league in smashing balls into orbit and the next he's striking out batters at a more prolific pace than all but three pitchers while keeping his ERA down to a top-10 rate in the American League. fourth in the majors in strikeouts He's got to be two different generational players passing as one designated hitter.
On a side note, how extraordinary of a scandal would that be if two twins passed themselves off as the same player for years at the highest levels of baseball? It's the only sport in which it could work too. But I digress. As MLB careens towards its Midseason classic, Ohtani is the runaway AL MVP lapping the rest of the field. After Ohtani launched a 400-foot tactical nuke for his 11th homer in the past 19 games, he leads the AL in homers, RBIs, WAR, and mouths left agape.
After finishing second in the AL MVP race last season to 2022, it often gets lost on us that he's somehow still ascending toward his peak. His reign as baseball's undisputed cornerstone is in full swing while his strikeout rate, ERA, batting average, and contact power are all improving. With all that said, it may be in the Angels' best interest to divest themselves from their Ohtani-Trout era.
At 28, Ohtani should have the name-brand recognition of Ronald Acuña, and Gerrit Cole combined.. The only thing hindering him is the club he's currently stuck on. Instead, he's shrouded by the penumbra of the Angels' mediocrity. The 2023 campaign is a step up from their destitution of past years, but third place in the AL West ain't getting it done. Even after leading the Angels in ERA, wins, strikeouts, batting average, homers, and RBIs, they're floundering near .500 If the Angels can't pull much closer to the cluster competing for AL Wild Card slots, they might as well trade Ohtani now.
While they're at it, free Mike Trout like one of those fish stuck in plastic at the bottom of the ocean floor. Now 31, Trout is on the back end of his prime, and a more earth-bound version of the divine three-time AL MVP he was in his prime. Trout, whose future productivity could be hampered by a chronic back injury he disclosed last season has been great, but not to the extent that we're used to. In another uniform Trout and Ohtani could have been Ruth and Gehrig. Instead, they're poised to be Griffey and A-Rod, two MVPs on poverty franchises who failed to make resounding memories outside the confines of their respective regional clusters.
Trout's bat hitting the gas is pretty much all the juice the Angels have left to squeeze. If they have any sense of reason, Angel general manager Perry Minasian needs to bite the bullet much like the Orioles did Manny Machado during his pre-agency year, or the Nationals' execution in jettisoning Juan Soto, Trea Turner, and Max Scherzer in separate deadline deals, and salvage what they can while they still have control over his contract. The Orioles emerged from their doldrums with a division contender.
If the Angels are going to advance into the postseason, they'll need to act soon. But that seems unlikely considering their paucity of assets to pull the trigger on a blockbuster trade that would supplement their franchise pillars. Unfortunately, the depressing reality for the Angels is that their minor league woodshed is barren. their best pitching arms are years away, but Ohtani's exit ramp opens up this winter. Considering the distressed overall health of their club, Ohtani's impending free agency, and their need to retool the minors, trading Ohtani to the Dodgers or Mets, or to aid the Yankees' asphyxiating offense could net them a haul that would begin their climb back to respectability.
The Angels need to retool too much of their organization to put their stars on the stage they deserve to star on. After a decade of flatulent overspending that's resulted in one postseason and a wasted decade, it's nearing time for the Angels to allow its two stars to shine elsewhere.
Follow DJ Dunson on Twitter: @cerebralsportex