LADYSPIN IS IN THE HOUSE!

Inviting Hannah Keyser, Laura Wagner and Lindsey Adler to co-host my podcast was the best idea I've had in ages, you guys. And since I had them, I decided to mix things up a little bit this week, breaking from form to answer a bunch of Ask an Adequate Woman questions. It was SUPER fun, and oh wow, do these ladies ever have strong opinions to offer to the men seeking our very adequate advice.
To kick things off, since it's still a show called Ask a Clean Person, we helped a woman who is in a power struggle with her boyfriend over their bathmat. You read that right.
Next, Hannah, Laura and Lindsey help to answer a question from nice young man who isn't sure if he should have one last fling with an ex. We had thoughts! We're also all rooting for him, he really did seem so thoughtful.
Then, we grappled with a question from a guy who's embroiled in a passionate long distance relationship while also in a regular old relationship in his hometown, and who doesn't know what to do with himself. Oh, mmm-hm, you read that one right too.
G/O Media may get a commission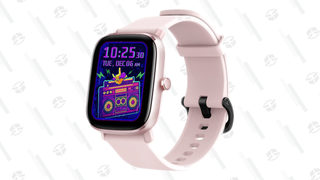 20% Off
Amazfit GTS 2 Mini Smart Watch
Get fit
Has built-in Alexa so you can ask questions and carry your smart assistant around with you; it has a battery that can last up to 14 days, has over 70 different sport modes, is 5ATM waterproof, and tracks stats like your heart rate, calories burned, sleep, and more.
Please make sure to enjoy Lindsey absolutely dragging the cheater. God, the LDR question was so bonkers. I've been laughing at Lindsey hissing, "Dan, I fucking hate you," for days now.
Over in the bonus episode, I posed the "What would you do if you had a dick for a day?" question to Hannah, Laura and Lindsey. Their answers were WILD. We're also talking terrible L train behavior we have seen, from masturbating, to literal sword-fighting, to spooning mayonnaise out of a jar while drinking a Lime-A-Rita, Summer of Kesha, and Laura tells us an insane story about road rage.
You can subscribe to Ask a Clean Person: The Podcast in Acast, iTunes, PlayerFM, Stitcher and all the other places you'd expect to find podcasts. For bonus episodes and all sorts of other cool rewards, head over to Patreon to help underwrite our show. Got Qs for the pod? Email Jolie with the subject line CLEANCAST.