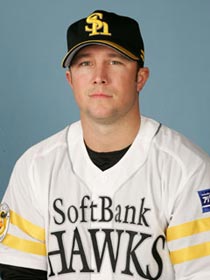 Rick Guttormson had it all. Baseball talent, beautiful hair, a last name that rolls off the tongue, and the adoration of countless Japanese fan dancers. When the American Dream doesn't come through for someone, this is probably the next best thing. Then it all came crashing down in the form of a 20-game suspension from Japanese baseball for using the hair restoration agent Finasteride, a banned substance.
It's not that the Japanese want players to lose their hair, but rather Finasteride can be used to mask other banned substances. The blog With Malice notes that Guttormson had been taking Finasteride for two years. Besides, nobody in baseball needs to be using Rogaine or other hair treatments. That's what the hats are for. They protected Matt Williams from a perception of baldness for years. Although I suppose hats could also be used to mask steroids, provided you hid the syringes underneath the hat. Which might explain the 2003 season when Rafael Palmeiro insisted on wearing that British Grenadier Guard helmet.
So now Guttormson — who pitched a no-hitter last year in Japan — becomes the first ballplayer in Japan suspended under the new drug policy. Now he'll just have to sit and stew in a miasma of shame and thinning hair, until his triumphant return with the Fukuoka SoftBank Hawks, using his new-found aerodynamic cranium to blow the ball by unsuspecting Japanese batters and their jet-black luxurious locks.
Ex-Mariner Fails Drug Test In Japan [Seattle P-I/Associated Press]
Bad Hair Day [With Malice]