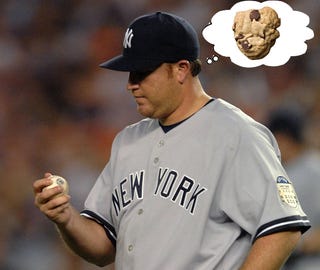 Sidney Ponson made his unceremonious (only to Ponson, as ceremonious occasions usually have bacon gravy) return to the Yankees in the second half of a two-ballpark doubleheader yesterday with the cross-Gotham Mets. And he laid into them like they were an Aruban judge, tossing six shutout innings in the Yankees' 9-0 in Shea and improved to 5-1 on the year. Carlos Delgado was a force in the day game in the Bronx, homering twice and driving in a team-record nine runs in a 15-6 clubbing of the Yankees.

Advantage: More Cluttered Beltway — Your simian editor was in attendance at the Nats' 4-2 win over the Orioles last night in D.C. Observed among the large-for-Nats-crowd: at least 10 people combining Orioles jerseys with Nats hats, about five of the inverse and one guy with an Orioles jersey and a Redskins hat. Allegiances are still a little muddied in these parts. Also, people are stupid. Odalis Perez threw four shutout innings before getting yanked too early with a 2-0 lead. With the score tied at 2 in the 7th, Kory Casto (yes, that Kory Casto) gave Waaarshington the lead for good with a double to left, with an assist to terrible fielding by Jay Payton. Elijah Dukes, who I found out from the program considered Hulk Higan his childhood hero and quit his first job at a barbecue stand because it was too hot, added an insurance run later in the inning. TWO IN A ROW, BAY-BEE!

Battles of Ohio and Los Angeles (Not the Rage album) Were Shutoutastic — C.C. Sabathia is upping his trade value, going 3-0 with a 1.13 ERA in his last four starts. Yesterday he blanked the Reds, striking out 11, with Ken Griffey Jr. tallying three of those Ks. Out west, Chan Ho Park (really? still alive?) struck out seven in six shutout innings as the Dodgers beat the not-really-of-L.A. Angels 6-0.