Dwyane Wade is your 2006 SI Sportsman of the Year. At least that's the word coming from Roy S. Johnson's blog (via Bethlehem Shoals at the NBA FanHouse). Sorry to ruin the surprise for you. Guess your Monday is screwed now.
To be honest with you, I was sort of hoping for Barbaro, just so I could cancel my SI subscription with a clear conscience. But if it can't be Barbaro, hey, why not go with someone else who flopped on the biggest stage of his sport?
Wade is awesome, don't get me wrong. I enjoy watching him play as much as anyone. But for Sportsman of the Year, why pick a guy who spent about a whole month last spring falling down every time a defender brushed up against him? Feels odd to me. An effective strategy? Sure. Sportsmanlike? Not really.
But I suppose that perfection is a lot to ask for. And hey, at least it wasn't the guy who medicated Franz Lidz's llama. And at least it wasn't Barbaro. Had it been my decision, though, I'd have posthumously honored the contributions to the 2006 sporting world made by Tony Romo's great great great great great great great grandmother. That woman had incredible foresight.
G/O Media may get a commission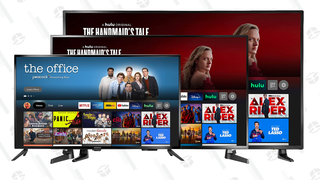 Up to 44% off
Prime Early Access - Insignia Fire TVs
The 2006 SI Sportsman of the Year Is ... [Ballers, Gamers, and Scoundrels]
More Wade Accolades [NBA FanHouse]
For Saving My Llama, Here's Some National Coverage, Doc [Deadspin]