We may not remember who won the NCAA tournament three years ago, but we can always recall the 14-seed that went to the Sweet 16. We love March Madness for the Cinderellas. Dedicated loyalty is fine for alumni, but the people who pay attention for three weeks each year could care less. The sleepers bring everyone into the fold, so here are the six teams with the potential to stun a BCS-conference team in the coming days ­– and how they might pull it off.
Eastern Kentucky: Raining threes
Eastern Kentucky's defense is porous and the squad pitiful on the offensive glass, but EKU, the winner of the OVC's automatic bid, is one of the nation's most proficient three-point shooting teams. Only Creighton and Villanova take a higher percentage of threes than Eastern Kentucky, and the Colonels convert nearly 40 percent of those attempts, good for 29th nationally. Jeff Neubauer's squad is filled with Ethan Wragges, players whose offense is predicated on threes. While the team does, of course, take the ball to the bucket, they would rather attempt a shot from deep – just three teams take fewer two-point jumpers than EKU.
Glenn Cosey leads the Colonels' barrage. A six-foot senior guard, Cosey's range extends to 35 feet, and like a wind-up toy that leaps from the ground, Cosey springs forward when he unleashes threes. Cosey has attempted more than 200 threes in 2014, and is supported by Corey Walton and Orlando Williams, an upperclassmen duo that has taken more over 200 threes combined. The team is rarely off-target, which explains their low offensive rebounding rate – few rebounding opportunities – and why a third of EKU's points come from these long-range bombs. But EKU doesn't simply rush the ball down the court to jack a quick shot; the Colonels' offense is methodical, probing an opposing defense before one of several shooters lets loose.
The selection committee did not help a potentially Joel Embiid-less Kansas squad. Opponents are taking, and making, a lot of threes against KU this season, and the Big 12 program has specifically struggled defending the three-point line in pick and roll situations. Eastern Kentucky is then the perfect storm of a Cinderella – the team often uses P&R action (12.5 percent of possessions) to spark their perimeter game, and Cosey is most often the Colonel coming off the pick to attempt a three.
Stephen F. Austin: Forcing turnovers
Stephen F. Austin is similar to VCU, just without a gimmicky defensive nickname. The Lumberjacks don't have the size to allow an opponent to run its halfcourt offense – Jacob Parker is not only the team's most efficient offensive option, he is the team's tallest player (at 6'6") who plays significant minutes – so SFA must pressure the ball and attempt to speed up offenses. And like VCU, the Southland Conference team is very skilled at generating turnovers, ranking third national in turnover rate – four Lumberjacks have a steal rate over two percent in 2014.
G/O Media may get a commission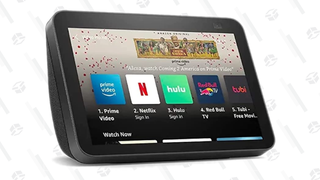 If an opponent doesn't commit a giveaway, the Lumberjacks aren't necessarily screwed. SFA pressure means opposing squads still don't often get a full 35 second shot clock to work with. The average length of possessions is just sixteen seconds before either attempting a shot, which is often a poor one, or committing a turnover.
Teams require both strong shooting and an offensive-minded big man to crack SFA. VCU could be disadvantaged in their first-round game: Melvin Johnson, the Rams' top shooting threat, suffered a sprained knee in the Atlantic 10 tournament final, and his status is in doubt. And while Briante Weber has DI's top steal rate, he will face his mirror image in Trey Pinkney, the Southland's best on-ball defender. Pinkney uses each inch of his 5'9" frame to unnerve and inject anxiety into opponents' thought processes and actions, which could make post entry passes to Juvonte Reddic difficult to complete.
American: Ball movement
Ball movement is a key concept in the Princeton offense, so it makes sense that when Mike Brennan, formerly an assistant at Georgetown, was hired at American, his newly-installed Princeton offense would impact AU's assist rate. It wasn't expected, though, that the Eagles would become the country's most unselfish team. Nearly 66 percent of American's field goals are assisted, and their crisp passing has boosted AU's open looks and transformed American's effective field goal percentage (56.3 percent, sixth nationally).
Darius Gardner is the team's point guard, and he nominally directs the offense, but the key is Tony Wroblicky, a 6'10" center who facilitates American's half-court offense similarly to Otto Porter, Henry Sims, and other former Hoya bigs. When he is on the floor, Wroblicky is dishing out an assist on nearly a quarter of AU's possessions, a turnaround from the eight percent of possessions a year ago, and his ability to see over the defense and find clear looks for the Eagles has helped the team become more efficient within the arc – the squad is making 41 percent of their twos (not at the rim), which doesn't seem overly impressive until considering Hawaii, the nation's leader, makes 46.1 percent. (Also, fun fact: Wroblicky shoots his free throws one-handed!)
While analysts universally praise the new-look Wisconsin offense, one which is quicker and more efficient than any Bo Ryan-led squad in nearly a decade, the team's defensive shortcomings have been overlooked. This is a shaky defensive team, allowing teams to convert frequently from within the arc and from three. Wisconsin won't pressure American in the halfcourt, and the Eagles should be able to run their efficient Princeton offense unmolested, a scenario that could end poorly for the two-seeded Badgers.
North Dakota State: Inside the arc
Don't expect many threes from 12-seed North Dakota State. The Bison have one of DI's tallest teams, and prefer to pound the ball in the paint, attempting shots with a high percentage of dropping. Taylor Braun is the best player you have never heard of, a constant mismatch who pairs perimeter shooting with speed and creativity off the bounce. The combination of Braun and Marshall Bjorklund have propelled North Dakota State to a top 50 ranking in several offensive categories. Bjorklund has an old school post game. He isn't a big who will face up and then shoot over his defender. Braun prefers to play with his back to the basket, using a few dribbles before drop stepping into the middle of the court and converting over a shoulder. The 6'10" Bjorklund makes 63 percent of his twos, and the Bison make sure Bjorklund gets at least one paint touch per possession.
ND State's Cinderella status will be determined by the game's pace. Oklahoma wants to accrue as many possessions as possible, while the Bison, lacking the depth of OU's athleticism, will seek to use their methodical offense to their advantage. If they can keep the contest's tempo in the mid-60s, while converting their traditional high rate of twos, the Bison will continue the tradition of a 12 seed-5 seed upset.
Mercer: The matchup
Like all the Cinderellas mentioned, Mercer shoots the ball well – 51.3 percent from two, 39 percent from three – but the team is a potential sleeper less because of their offensive efficiency and more because Duke has struggled in 2014 to keep any teams off the scoreboard. These Blue Devils' defensive efficiency rate is more than one point per possession, the first time in the Ken Pomeroy era (since 2002-03) that a Mike Krzyzewski defense has gone north of one PPP. The team still defends the perimeter well, but allows opponents to make not only 50 percent from within the arc but an effective field goal percentage of 49 percent.
One Bear doesn't dominate Mercer's offense – the team is socialist and well-balanced. Langston Hall, a 6'4" guard, ensures possessions are spread equally, and five Bears have a shots attempted percentage of better than 20 percent. Duke has suffered when opponents were able to spread the Blue Devils' defense, creating gaps within their man, and as Mercer is composed almost entirely of seniors, the Bears are experienced enough to run their offense efficiently no matter how Duke reacts.
Western Michigan: Cracking the zone
There isn't a zone in the country like Syracuse's vaunted 2-3. Teams matched-up with the Orange in the NCAA field are almost always hesitant when attacking the zone for the first time – the moment a player thinks he has found a seam, an Orange big welcomes him to the zone by promptly sending the shot into the crowd.
Western Michigan, however, has an advantage – they played against Eastern Michigan five times the past two seasons, and EMU, coached by ex-Cuse assistant Rob Murphy, use an approximation of the Cuse zone. The play of Shayne Whittington, the Broncos' senior center, will be instrumental for a first-round upset. The big makes a whopping 56 percent of his twos, and along with Connar Tava, a wing who delights in ping-ponging into the paint and scoring at the rim, WMU has two players capable of finding holes in the 2-3. There is always one potential Cinderella that will make us sweat the outcome, and Western Michigan could be that team. The Broncos are one of the nation's best at drawing fouls (making 72 percent of those freebies), and while a zone is supposed to help prevent fouls, Cuse draws frequent whistles. This could be a contest where the final minute feels like another half.