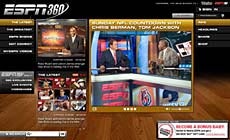 As we enjoy the ESPN Ombudsman trying to make some sort of sense of "Who's Now?" our eyes move to ESPN 360, otherwise known as "That ESPN Channel / Online Application You're Not Sure If You Have, And If You Did, You'd Have No Idea How To Use It."
According to a story in The Wall Street Journal that you probably can't read, ESPN is crying uncle on ESPN 360 and is starting over.
Launched in 2001 to take advantage of the explosion in high-speed Internet connections in U.S. homes, ESPN360 has suffered from a business model that has limited the number of users it can reach and a mix of programming that has made it hard to differentiate itself from ESPN.com.



ESPN is expected to announce today that it will relaunch 360 next month, shifting it more toward live events — from Argentinian polo matches to National Basketball Association games to college-football news conferences — with the hope of eventually hosting those kinds of offerings 24 hours a day.
The idea itself makes sense — a channel that, no matter what, has a live sporting event going on at any one time; it'd be like MTV having an all-music-video channel — but, you know, seriously, can they really make it a little easier to figure out? We do this as our jobs, and we've never been able to figure out ESPN 360. Until that point, ESPN 360 will probably be just like the Big Ten Network; another channel showing games we want to watch but can't.
ESPN Calls A Do-Over On Its Online-Video Site [Wall Street Journal]