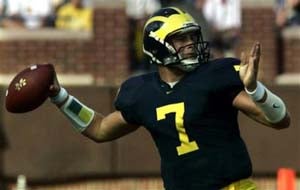 The Notre Dame jokes have outnumbered the Pam Ward jokes, so you know it's serious in South Bend. But Michigan and Illinois are both 2-0 in the Big Ten. South Carolina and their Smelley Cock may dodge an upset by Mississippi State. And my Air Force over Navy prediction looks completely wrong. Oh, and look out, Boston College! UMass has but a few less points than you.
As for me, I brought Deadspin to the city of Bowling Green, Ohio today, and tonight I'm headed to BGSU's homecoming football game against Western Kentucky, situated in Bowling Green, Kentucky. That's our city name. Sadly for the Hilltoppers, the Ohio rendition of Bowling Green is completely flat, so there goes their tactical advantage on Hugh II: And The Nedyssey Continues...
*rubs eyes* Ahhhh, damn, that was a good nap, I wonder how badly my Irish are getting blown ouHOLYSHIT! — liquidwisdom33
Demetrius Jones, is that you?
I got kicked out of the UK game for trying to use a girls ID to get in, and now my girlfriend tells me I can't watch any game where Erin Andrews is present because I think she is "pretty". They just don't understand. — redlegs1869
I woke up 45 minutes ago, put on my vans, smoked a bowl or three to spite EDSBS, and now I'm grubbing on some cheesy sticks. That's what a Berkeley Tailgate is all about — towthis06
I used to think that Notre Dame was ridiculous for not joining a conference, but since ND is on ESPN right now and Michigan is relegated to the Phantom Zone that is the Big Ten Network, I'm not so sure. — gdewalt
ok, what are the odds that Jimmy Claussen transfers now that he lost the starting job? — Herbie's Wingman
Erin Andrews is a whore. She just gets hotter and hotter. — twoeightnine
Pretty good, if I say so myself.
Preparing for Cal-Oregon: must remember to break out the sunglasses so as to not be blinded by the design atrocities that are the uniforms for both teams.— Signal to Noise
Is the Louisiana Dept. of Tourism paying ESPN for on-air promotion or what? — Rodeo Queen
ND is one loss away from utilizing the loophole in the rulebook that "there is nothing in there that says a dog can't play football" — LidleFlightClass
My friend just informed me that Ric Flair was at the South Carolina-Mississippi State game. I'm sure Deadspin readers can fill in a joke here. — clarkwgriswld5
To close up this week's Hugh II, if you want to see video proof of our earlier claims that Pam Ward confused "kickoff" with "punt," thank Awful Announcing for culling up the clip.
And that's it. Thanks to everyone who submitted something to the project — yes, even to those whose entries sucked enough to the point that I didn't include them. Keep tryin' next week.