This is one of those weird situations where it's hard to avoid talking about a single call like it swung things, even though the entire series—a five-game Penguins win—was pretty one-sided. But the Blue Jackets are out, after the best regular season in franchise history, and there's plenty of time to dwell on everything.
Columbus nearly completed a three-goal comeback last night, but early in the third, the would-be tying goal by Oliver Bjorkstrand waved off when goalie interference was called on Alexander Wennberg. Wennberg clearly contacted Marc-Andre Fleury, but was Fleury out of his crease? And did Scott Wilson ride Wennberg into him?
On the ensuing power play, Sidney Crosby scored to make it a two-goal game and seal the series.
"It is what it is and it sucks." Wennberg said. "I'm not trying to go in and hit the goalie. I think [Fleury] was out [of the crease] and I got pushed in there. Obviously, the game changed right there."
John Tortorella was incensed, yelling from the bench at the officials, and he was still furious in his postgame conference. (Tortorella calmed down about two minutes into his presser, but those two minutes were awkward.)
No one's going to remember that call, not when there was a series-long decider in play: Sergei Bobrovsky was terrible. He's going to win the Vezina again, but against the Penguins he allowed 3.88 goals a game and recorded a putrid .882 save percentage. They're not being anyone with numbers like that, especially when Fleury, who unexpectedly stepped in for an injured Matt Murray before Game 1, gave the Penguins a chance to win every game.
"They threw a lot of pucks at the net and always had somebody around trying to poke it, trying to get it in," Fleury said. "I love the way our guys played in front of me, the way they helped me. They made some saves for me."
G/O Media may get a commission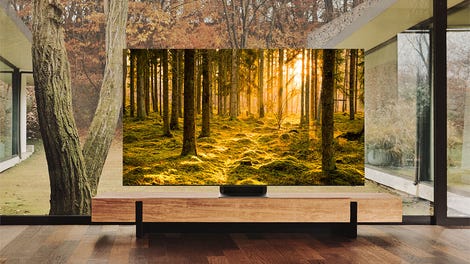 Up to 40% off
Samsung Smart TVs
The easy narrative is that the Blue Jackets were this year's version of an annual stock character: The team that isn't as good as their record, and observers note that they had great and unsustainable luck, and so players and fans act all huffy about being doubted, and then they crash out early to validate the doubters. But that's complicated by a playoff format that matched the NHL's second and fourth best teams (going by the standings) against each other in the first round. The Penguins are Stanley Cup favorites now, and their top two lines on fire, and they're going to make a lot of good teams look bad. In a just world, maybe the Blue Jackets get to tee off on the Bruins in the first round, and this season doesn't feel like such a disappointment. Maybe CBJ just ran into the buzzsaw a round or two early.
But here's the thing: If the controversial playoff seeding was responsible for what was supposed to be a tough matchup, it didn't turn out to be tough at all for the Penguins.