This was its own collapse, in its way. Sure, it was not as shocking or brutal as 2013, but few things in sports history are. In 2013, the Leafs entered the third period of Game 7 against the Bruins with a lead and surrendered four unanswered goals to lose 5-4. In 2018, the Leafs entered the third period of Game 7 against the Bruins with a lead and surrendered four unanswered goals to lose 7-4. Yes, a box-score blowout can actually be less painful. A little less.

It hurt because it was every latent flaw with this roster all manifesting at once, at the end of a Game 7, with no room for error. Frederik Andersen, streaky till the last, ultimately caved. The defense bent and broke. And for the first time since the series' two opening games, a very young Leafs team looked its age, collapsing under fire.
"After [Torey Krug's tying goal], we were still in a good spot there," said head coach Mike Babcock. "The next one hurt us. We didn't respond. It was like devastation instead of just playing and executing in the third period."
More Babcock: "Once they got the next one [David Pastrnak's goal to make it 6-4], mentally we weren't there."
The Leafs managed eight shots in the third, and zero scoring opportunities. That's a recipe for being on the wrong end of the handshake line.
So what now for the Leafs? Replete with young stars, they were this year in the same position as Edmonton last season, there but not there yet. (Ignore the Oilers' subsequent backslide for this comparison—but ignore it at your own peril.) As disappointing as it is that Auston Matthews and William Nylander (one goal apiece) barely showed up against Boston, either one could have swung this series the other way, and you'd expect/hope that both won't simultaneously no-show again.
G/O Media may get a commission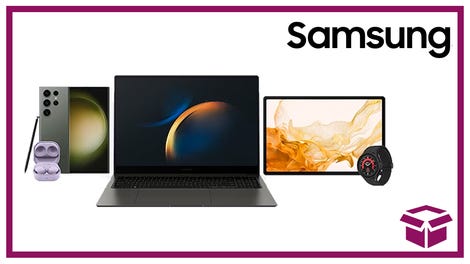 24 hour deals
Discover Samsung - Daily Deal
There will be changes around them this summer. Here are the Leafs' UFAs. Tyler Bozak, the longest-serving Leaf, and James van Riemsdyk, who led the team in goals this year, are probably gone, too expensive to retain with a number of RFAs (including Nylander) coming in for raises. Leo Komarov had a terrible season, despite being consistently slotted on top lines. He's a Babcock favorite, so who knows. Roman Polak, too, is one of Babcock's boys, and at least he'd be cheaper than most of their other blueliners. Dominic Moore's likely out. Tomas Plekanec, who came over at the trade deadline and didn't do much until the playoffs, was probably just a rental.
These aren't, on the whole, fundamental changes, especially given that Komarov and Moore were healthy scratches in Game 7. (There are reinforcements on the way, too. The Leafs are high on defensemen Travis Dermott and Andreas Borgman, and top prospect Timothy Liljegren could earn a call-up at some point next year.) The core will be back, a year older and maybe a year wiser.
"It sucks," Nazem Kadri said. "But you have to take the positives out of it.

"We would have loved to have advanced, but I think for the future, we're going to be a team to be reckoned with and we will be back in this situation. Our backs were against the wall for a few games and we responded well. To (possibly) win three straight playoff games in a row, two out of three on the road is a tough task, and we gave it our best shot."
In the front office's long-term planning, this is an upward slope, a gradual climb toward being real contenders. Starting next year, the results have to show that. Because another first-round exit, a third straight, would look an awful lot like a plateau.