I'm usually cynical about the chicken-little claims that a given Olympics is going to be a disaster. Biennially, everyone spends the run-up to the games fretting, and then the games go off largely hitchless. (And then the disaster strikes as the mountain of debt.) But Rio de Janeiro sure is doing its damndest to prove the doomsayers right.

Jokic? Embiid? The NBA MVP is obvious... right? | Keep it a Buck(et)
The World Anti-Doping Agency (which sucks—seriously it sucks) announced today that it has suspended the accreditation of the Brazilian Doping Control Laboratory in Rio—the lab that was scheduled to handle tests during the Summer Olympics, and the only WADA-accredited lab anywhere nearby.
The suspension, due to an unspecified "non-conformity," prevents the Rio lab from testing urine and blood samples. So...how are these Olympics going to go down?
"In the meantime, WADA will work closely with the Rio Laboratory to resolve the identified issue," said Olivier Niggli, Incoming Director General. "The Agency will ensure that, for the time being, samples that would have been intended for the Laboratory, will be transported securely, promptly and with a demonstrable chain of custody to another WADA-accredited laboratory worldwide," Niggli continued. "This will ensure that there are no gaps in the anti-doping sample analysis procedures; and that, the integrity of the samples is fully maintained," he continued. "Athletes can have confidence that the suspension will only be lifted by WADA when the Laboratory is operating optimally; and that, the best solution will be put in place to ensure that sample analysis for the Rio Olympic and Paralympic Games is robust."
G/O Media may get a commission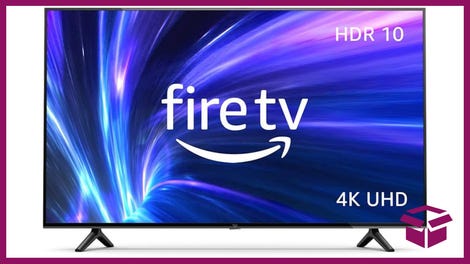 42% Off
Amazon Fire TV 50" 4K Smart TV
So they're just going to fly these sample vials out of the country and test them elsewhere? And we're trusting this chain of custody when WADA couldn't even secure the last Olympic onsite lab enough to prevent the Russians from drilling a hole in the wall and swapping out the samples?
This is the second time the Rio lab has lost its accreditation in the last three years.
The Olympics start six weeks from today.