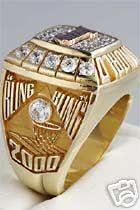 The Los Angeles Lakers will tip off Thursday to try to win their 10th NBA championship, their fourth this decade. The first championship, in 2000, might have been the most exciting one, as Shaq finally got his first ring with Kobe finally breaking through as a winner. Heck, that ring must be awfully valuable. Actually, it's worth at least $22,500; someone's selling theirs on eBay.
One authentic 1999-2000 Los Angeles Lakers NBA Championship Ring. This ring was designed and crafted by "Henry Kay Jewelers" and comes in its original rosewood presentation case with personalized plaque. This is a large ring by normal standards but is considered to be a "ladies-size" since it is size 8 1/2. Per the authenticity certificate (hand-signed by the president of Henry Kay Jewelers) that accompanies the ring, the ring weighs approximately 25dwt. The top of the ring contains 10 diamonds weighing about .04Ct. The top is paveed with 27 brilliant cut diamonds weighing approximately .50Ct. and are set in a 14Kt.
Our favorite part is the "Bling Bling" on the side of the ring; boy, THAT won't be dated in 25 years.
Anyway, we looked over the 1999-2000 roster to figure out who the most likely candidate is. Let's see ... Travis Knight ... John Salley ... Sam Jacobson ... Tyronn Lue ... you know, we're gonna go with John Celestand.