There is something undeniably Duke about a team that was carried all year by star freshmen Jahlil Okafor, Tyus Jones, and Justise Winslow having its championship season saved by another freshman named Grayson. There was Grayson Allen, storming out of the anonymity that comes with a season full of DNPs and into the National Championship game to score 16 points in 21 minutes, leaving those of us watching in disbelief asking, "Who the hell is this little white guy?"
The best sports movies according to Toheeb Jimoh
Yes, Grayson Allen is exactly the kind of player you began to think he was when you first noticed him screaming like a maniac after hitting one of his many big shots last night. He's the kind of floor-slappin' gadfly that's synonymous with the Duke brand, a guy so annoying that his teammates call him Deebo—after the awful bully in Friday—and gets called an "asshole" by Coach K during practice. If Coach K is out here calling a guy an asshole, he's probably a pretty big asshole.
The other thing about Grayson Allen, though, is that he can play. At some point in the last year, you may have stumbled across a YouTube highlight mix featuring a little white dude pulling off dunks that would make Russell Westbrook jealous. That was Grayson Allen!
Here he is jumping over Jahlil Okafor and Justise Winslow in a dunk contest:
Allen was a McDonald's All-American in 2014, and has been committed to play at Duke since he was a junior in high school. He's not a scrub, and so it shouldn't have been a total shock when he started exploding into the lane last night, absorbing contact and dropping in layups from impossible angles.
G/O Media may get a commission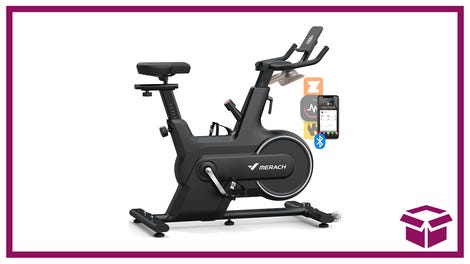 14% off + Coupon
Merach Indoor Cycling Bike
The good news for Duke haters is that they've already got their Public Enemy No. 1 picked out for next year. After the game, Allen was already talking about embracing his identity as Duke heel (From SI):
Allen prefers to leave Deebo on the court, but if he is to be cast in the public eye as a villain, he has no qualms. "I'm gonna go out there and play the same way I played all year and play with the same kind of style and aggression and fire and everything," he said. "If being hated comes from that, I'll guess I'll live with that."
And here he is last month, talking to The New York Times about his floor-slapping technique:
The freshman guard Grayson Allen said: "You can't be weak when you do it. You've got to be strong. It's that thing where you're showing the other team, like, Look, we're here, we're ready to get a stop — and you're and the teammates behind you — like, Let's get a stop."
There's also this:
This dude is probably going to spend the next three seasons playing annoyingly intense defense and dunking on the entire ACC, and everyone is going to hate him. It's going to be so fun.