Real Betis suck, are in last place in La Liga, and barring multiple, simultaneous miracles, will almost definitely be relegated in a few weeks' time. Paulão is a center back on that team. This is his story.
On Sunday Paulão and co. played Rayo Vallecano. They lost 3-1, and as you can see from the video above, it was almost all Paulão's fault.
Fourteen minutes in, the Brazilian defender received a pass in his own box. Instead of clearing it, he played a soft pass back toward his goalkeeper, thinking he had all the time in the world. He did not, and a Rayo player picked off the ball and passed it by the Betis keeper to take the lead. Thirteen minutes later, Paulão shat all over himself again.
When Rayo attempted an early, low cross into the near post, Paulão was in position. He swung to clear, but the ball shanked off his foot. His keeper was too slow to react, and Betis were down 2-0.
Paulão collapsed to the ground, defeated, and had to be helped to his feet and consoled by a Rayo player. He could have played on, but poor Paulão had shamed himself, his club, and his family name, and he knew it. It was time to get the fuck off the pitch.
G/O Media may get a commission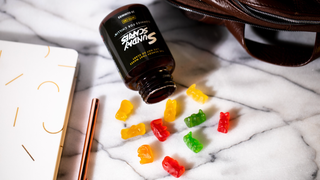 10mg CBD Gummies (22-Count)
So the Brazilian, ever honorable, motioned to his bench to do just that, and that they did, five short minutes later.
And Paulão, in tears, legacy in tatters, walked off, never to be heard from on American blogs again.