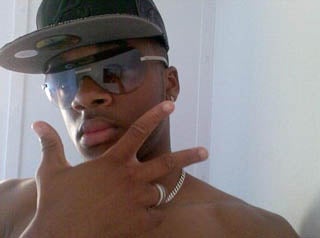 This is Ashley-Paul Robinson, a 19-year-old winger for London's Crystal Palace. Like many 19-year-olds, he has a Facebook page. And also like many 19-year-olds, he posted something there about his latest job search. Problem is, it was details of a secret negotiation with another team. Oops.
A footballer has been told to look for a new club after he unwittingly revealed to more than 2.7million people on Facebook that he was in secret talks with a Premier League team. On Saturday, Robinson, from Beckenham, Kent updated his status on the site to say: 'Ashley-Paul is goin fulham on monday. If i pull dis of im on dis ting!!!'

But instead of just being visible to his 198 Facebook friends, he unintentionally allowed the entire London network of the social networking site to view it.
Crystal Palace fans saw the posting and alerted team officials, who were not amused. Earlier today Mr. Paul was released.
We will miss Mr. Paul's presence on Facebook; coming to love, as we have, his dry wit and unique perspective on world events:
Ashley-Paul Is Travling 2 Bath With Fulham Fingers Crossed. (Im lukin 2 Get Sum Tips Of Jimmy Bullard He's ON DIS TING NO HYPE LOL
Footballer Given The Boot... After Revealing His Secret Move To Premier League Club In Facebook Blunder [The Daily Mail]