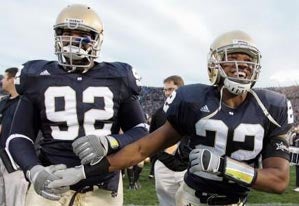 We know that Notre Dame coach Charlie Weis is infinitely more popular than Tyrone Willingham ever was (even though they have pretty much the same record at the university). But it's possible he was paying too much attention to his gastric bypass surgery than his players' well-being, because one of them just got busted for picking up a prostitute. Well, actually, a police officer who was pretending to be a prostitute.
The unlucky paramour? Defensive lineman Derrell Hand. Don't expect him to be tutoring Rudy anytime soon.
The South Bend Tribune reports that Hand was arrested and jailed last Thursday afternoon after allegedly propositioning a female police officer who was posing as a prostitute. It was all part of a sting operation by South Bend police, and Hand and three other men fell for it. The 6-foot-3, 287-pound lineman, who is entering his junior season, was released from jail after posting a $250 bond.
In real life, it's embarrassing to be caught trying to pay for sex. But when you're an athlete? And you're still paying for sex? Jeez, if you still have to pay for sex, seriously, what's the point of being an athlete? We really can't emphasize this enough.
Irish Player Faces Prostitution Charge [The Wizard Of Odds]