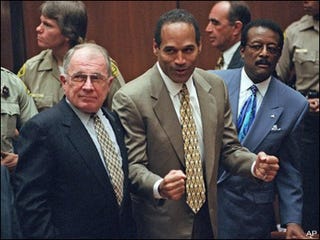 Every morning, the fine folks at Sports Radio Interviews sift through the a.m. drive-time chatter to bring you the best interviews with coaches, players, and personalities across the sports landscape. Today: In this theory, O.J.'s son was the murderer.
William Dear joined Sports Radio 610 in Houston with MaD Radio to discuss why O.J. is innocent, why he believes that with 100 percent certainty, why Jason Simpson should be the main suspect, O.J.'s role in being at the scene following the murders, how that situation played out, how it got by the police and if he's attempted to give this information to the authorities so that they can charge Jason Simpson.
Why do you believe O.J. Simpson is innocent?:
"First of all, let me predicate I was speaking in front of the International Council of Investigative Reporters and Editors … when the so-called car chase scene was going on and I made the statement to 600 or 700 people … that it was probably something concocted by his lawyers and he'd scream and holler he couldn't get a fair trial. My son said, 'Dad, you're assuming he's guilty.' … I decided I'd come out to Los Angeles. Within two weeks of the murders, I climbed over the back gate, sat at her front door and looked at where the blood where Ron Goldman was and where Nicole was. … It's been 18 years, but finally I'm able to put it together with documentation - no theory, no nothing. It's fact."
Do you're saying this is 100 percent factual?:
"Our suspect that you've probably heard about at the time was 5-foot-11, 235 pounds, 24 years old and, believe it or not, he was on probation for assaulting his previous employer with a knife. That starts it off from there."
And this suspect you're talking about is O.J.'s oldest son, Jason, who he had with another woman?:
"Yeah it was from his first marriage. … We found, in the storage facility, that the suspect had put away photographs of him wearing the knit cap that was found at the crime scene, in bed with his dog. You have to understand that the knit cap that was found at the crime scene … It contained hairs from an African-American man and dog hairs. Yet, it was not solidly convincing whether or not it was O.J.'s hair. But we have the photograph of our suspect in bed with that dog and with that knit cap that we believe was found at the crime scene, in addition to his diaries which he talked about, 'It's a year to the night that I cut away my problems with a knife.' We have the psychiatric records where he checked into Cedar-Sinai Hospital just weeks prior to the murders and told the active physician on duty that he was about to rage. He was out of medication."
It isn't out of the realm of possibility, though, that O.J. could have put on the hat in the photograph and went over there and committed the murders, right?:
"That's true. Listen, I'm going to tell you right now, there's no doubt in my mind, after doing this 18 years, that O.J. was at the crime scene. But after the murders. We have, in that box that was found in his storage facility, a knife. It was a sheath knife that matched the proper length. … We took the knife, along with the autopsy photographs, to several, but in one particular case … [an expert] and he compared the laceration on Nicole's scalp to the butt of the knife and it matched."
So do you believe Jason committed the murders, then O.J. arrived at the house, put it together that it was Jason's knife and then felt he had to protect his son?:
"No, I'm saying that what happened was, in all probability, when he left, if our suspect left and had the murder weapon, contacted his dad. His dad knows that he had psychological problems. … He wasn't sure whether or not his son was telling him the truth, so he jumps in the car, puts on a pair of gloves, comes through the back, sees Nicole, takes off one of the gloves, bends down, checks her, head goes one way, the body the other. He drops the glove, looks up, sees Ron Goldman, realizes, 'Oh my God, he is telling me the truth,' and he runs out and gets into the Bronco. Keep this in mind, that whoever committed the murder would've had blood all over them, including the knuckles on Ron Goldman, which was badly bruised. You could see where he had struck the assailant a number of times. … The total amount of blood [in the Bronco] would have fit on my thumbnail. … There was no blood on the break and no blood on the accelerator."
Was this just missed by the police?:
"I think they zeroed in on O.J. and from that point on, he wasn't going to turn in his son. And the fact that we believe he was there after the murders certainly contributes to it. Again, even though people have described him as narcissistic, that he would look out strictly for himself, as a parent, I can see some of the things he's done and he cares about the kids. Maybe he felt at that point that he owed that to his son. Who knows what he was thinking? But I will promise you this, he didn't do it. In my book, everything that I have done has been backed up with documentation and I'm praying they'll reopen this thing and look at it."
Have you discussed this with authorities?:
"Oh we've tried. You'll see in the book about four or five letters. We met with the Attorney General's staff in 2008 and they were excited. I promise you. … They looked at all the evidence … and they were overly excited. … Then we received an email, 'Not interested. Case closed.'"
This post, written by Eric Schmoldt, appears courtesy of Sports Radio Interviews. For the complete highlights of the interview, as well as audio, click here.
More from Sports Radio Interviews
• Steve Breaston says illegal hits are part of the game now.
• Danny Manning thought long and hard about leaving Kansas.
• Kobe Bryant says Mike Brown is in a tough spot.