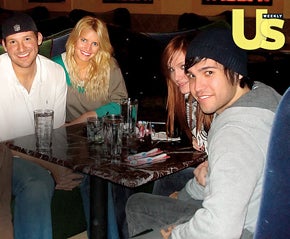 After all of the confidential sources proclaimed last week that, yes, Tony Romo and Jessica Simpson may have possibly ended their shameless romantic relationship for the betterment of all mankind, it appears that there was a temporary reunion for the sake of Ashlee Simpson's shotgun wedding to the emo kid:
The Dallas Cowboys quarterback and the bride's sister may have put aside their personal issues — and let the entire focus fall on the newlyweds — but my source did say, ''I saw them over in a corner near the end of the night, having what looked like a very serious, intense conversation.'' Romo also supposedly ''looked a little uncomfortable'' when chatting with father-of-the-bride Joe Simpson (who performed the non-denominational marriage ceremony). According to various reports, Joe Simpson practically ''begged'' the former Eastern Illinois University gridiron star to attend the wedding, even though he and Jessica have allegedly split up — a story the actress and singer's reps firmly deny.
Unless these two die after getting trampled to death by a pack of wayward rhinos mid-coitus, this will be Deadspin's final acknowledgment of this ridiculous couple's existence. Rejoice appropriately with unreserved fits of profanity.
Ashlee, Pete In Wonderland [Chicago Sun-Times]