Last night, White Sox ace Chris Sale struck out 12 Cardinals in eight innings, becoming just the second pitcher in baseball history to strike out 10 or more batters in eight consecutive starts. Here are some thoughts about that.
The best sports movies according to Toheeb Jimoh
1. Four starts ago, while Sale was in the middle of this streak, I wrote about how untouchable he was. At that point in time, he'd pitched four straight games with 10 or more strikeouts and 20 or more swings and misses; the latter hadn't been achieved since 2002. Somehow, Sale has gotten even more untouchable since then.
Sale actually induced more whiffs in his first four starts of this streak (97) than he has over the course of the last four (86), but the way he's been getting those swings and misses has only gotten more impressive. The whiffs-per-swing rate on his changeup and slider have remained relatively consistent throughout the streak, but but his fastball has reached another level of dominance over the last four games. Opposing hitters were coming up with nothing but air on 28.43 percent of the hacks they took at Sale's fastball through the first four starts of his streak, but that number has climbed to 38.66 percent during his last four outings. That's completely ridiculous. Madison Bumgarner's fastball was the most difficult to hit in the league last year, and the whiffs rate on that pitch was 28.43. (numbers via Brooks Baseball)
2. This is what it looks like when a guy decides that he's just going to blow you away with his fastball and there isn't a damn thing you can do about it:
G/O Media may get a commission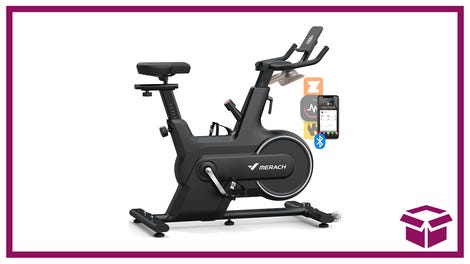 14% off + Coupon
Merach Indoor Cycling Bike
Sale threw 61 fastballs at the Cardinals last night, and they whiffed on 16 of them.
3. The goddamn White Sox don't deserve Chris Sale. This dude is out here giving his team some of the most dominant starts it will ever enjoy, and they can't be bothered to score some runs for him. They needed 11 innings to scratch out two runs against the Cards last night, and they lost Sale's last three starts by scores of 2-1, 2-1, and 6-1. Also, this:
You suck, White Sox.
4. I'm really excited to see how long Sale can keep this streak going. Pedro Martinez was the last pitcher to strike out 10 or more batters in eight consecutive starts back in 1999, and his streak only ended because it came at the end of the season. Pedro simply ran out of time, but it's not impossible to imagine Sale keeping this going for a few more starts. If he strikes out 10 dudes in his next start, he'd become the first pitcher ever in the history of baseball to do that in nine straight starts. Baseball has been around forever, man, so anytime a guy has a chance to become the first person to ever do something in the game, that's pretty damn special.
5. Speaking of Pedro Martinez, you can't really talk about Chris Sale without also talking about the fact that Martinez was a deity during that 1999 season. Not only was his run of 10+ strikeout games cut short by the schedule, the road he traveled to while on his streak was demonstrably harder than the one that Sale has been on.
Remember that Pedro did his work smack-dab in the middle of the expansion-and-doping era, when it was hard enough to keep a team from hanging six runs on you. The eight teams that Pedro faced during his streak scored an average of 5.36 runs per game in 1999, and seven of those eight teams finished the year above the AL average for runs scored per game. Four of those teams—Toronto, Oakland, New York, Cleveland—were in the top five of the AL runs-per-game leaderboard.
As for Sale, the teams he faced during this streak have scored an average of 4.23 runs per game. The highest-scoring team he's faced, the Houston Astros (4.45) would have been the second-easiest matchup on Pedro's list, just outscoring the 1999 Twins (4.26). In fact, every team aside from the Twins that Pedro faced during his 1999 run scored at least five runs per game. And another thing! Pedro had a streak of seven consecutive games with 10 or more strikeouts at the beginning of the 1999 season. In his first two starts before that streak began, he punched out nine batters in each.
I realize this is a lot of words about Pedro Martinez in a post that is ostensibly about Chris Sale, but when you're talking about historically dominant pitching performances, the conversation almost always comes back to Pedro in 1999, as it damn well should. That said, Sale is a freak and the least the Sox could do for him is score a couple of runs every so often.