The Bachelor franchise is successful because viewers experience a light but undeniable catharsis from watching other people humiliate themselves.
Jokic? Embiid? The NBA MVP is obvious... right? | Keep it a Buck(et)
This is a harsh truth, but a true truth. Seeing someone beautiful get dumped on television by a man who is dating 19 other women that she recently became close friends with is not fun, per se, but it is...something, and while we can recognize how terrible this setup is for everyone involved, we are still watching, 20 seasons later. There is an exception to this rule, at least for me, and that is whenever the contestants are forced to compete with each other in a sports competition.
For those of you who aren't familiar, The Bachelor or Bachelorette (seasons alternate) begins with about 28 suitors, and each week typically includes two one-on-one dates and one powerfully uncomfortable "group date." Usually about once per season, this group date involves some kind of sports competition, wherein the winning team gets to actually spend time with the bachelor/bachelorette and the losing team rides home in a van, crying softly and emotionally freezing out whoever fucked up.
It is in these competitions where we most clearly see the single-minded desperation that this experience breeds within contestants. It is always alarmingly intense, and generally results in injuries. Until I watched The Bachelor, I never knew what hell might be like for me, but this is absolutely it: playing in an extremely competitive sports game on national television in order to win the affection of a man.
G/O Media may get a commission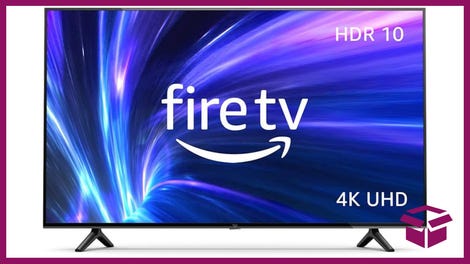 42% Off
Amazon Fire TV 50" 4K Smart TV
To demonstrate what I'm talking about, here's a quick look at a few recent scenarios.
The Bachelor, Season 20 (2016)
Early on in Ben Higgins' season, which just finished airing, the contestants—some of whom, I assume, did not know how to play soccer—were forced to compete in a soccer game in order to win time with him, featuring Alex Morgan and Kelly O'Hara from the U.S. women's team. It looks kind of fun, at first, but as you'll see in the interviews, there was nothing lighthearted about this game. These women were not fucking around; they were playing for love.
"It's really important to win this game," said a grim Haley, whose twin (her job description was "twin") was on the other team. "We all want time with Ben, and I know a few girls on my team didn't even get a date last week."
"I'm not peppy Jamie, I'm like, aggressive Jamie right now," said Jamie, wild-eyed, lips spread over her teeth in a tight smile.
Rachel experienced some kind of knee or leg injury towards the end of the game, which Olivia planned to "take advantage" of. The red team won, and Ben hugged them as the losing team limped off the field and back to the Bachelor mansion.
The Bachelorette, season 11 (2015)
On Kaitlyn's season of The Bachelorette, producers for some reason thought it might be a good idea to have the men literally fight each other in a ring in front of Laila Ali, the woman they're trying to impress, and a live audience. "Don't hurt each other, please!" Kaitlyn giggled nervously. They did, though!
"We're trying to date this girl," Tanner, one of the contestants, said in an interview. "You don't want to [bleep] out and act weak in front of her." This resulted in a bunch of jacked bros hitting each other hard in the head, and ended with Jared getting a straight-up concussion in the championship round.
Kaitlyn seemed pissed that the competition was allowed to get so serious, saying: "I wanted this to be fun. I didn't want anyone to get hurt."
The Bachelor, season 18 (2014)
Juan Pablo Galavis' season of The Bachelor was a controversial one, because he was a clear misogynist who didn't seem to have thoughts (except when asked about gay people, who he believed were "perverts").
JP was also a former professional soccer player, so obviously the women were going to have to scrimmage for his affection at some point. Sharleen, an opera singer who we at Jezebel are quite fond of, took a significant beating during the game ("I definitely blocked the ball with various body parts, including my face").
At one point, Juan Pablo and his tank top joined the game to help out the ailing blue team, and ended up accidentally knocking a few people over himself. "It's not about winning or losing, we're just playing and having a good time," he said.
Yeah, okay. Doesn't look so fun to me!
---
Gif footage via ABC, image via ABC.