For wrestling fans, last Friday was a great night to stay in. The night was packed with free or cheap live pro wrestling streaming, with the three highest profile shows coming from companies that have a strong working agreement. New Japan Pro Wrestling had its roster spread across two of three simultaneous shows—a NJPW card in Daytona Beach, Florida produced by top star Kenny Omega, Mexican affiliate CMLL's weekly Arena Mexico card, and American affiliate Ring of Honor's Best In The World pay-per-view event in Baltimore. In addition to NJPW talent being on the Florida card and the ROH show, there were others in England for joint shows later in the weekend with their British affiliate, Revolution Pro. On top of all that, NJPW's biggest international event yet, at San Francisco's Cow Palace, was eight days away. With so much on the docket, this has been a big week for NJPW's expansion, and while the CEO x NJPW show—it starts at 51:20 of the linked Twitch video—ended up being newsworthy, it wasn't in the way NJPW would have wanted.

More than 30 minutes after it was supposed to start, the show finally opened with two local wrestlers, Chasyn Rance and Aaron Epic (real name Richard Velazquez), heading to the ring for a singles match. They were not announced to the crowd by name and the broadcast team on the Twitch stream kind of glossed over who they were, exclusively calling them "Chasyn" and "Epic." That would be kind of conspicuous under normal circumstances, but in this case it was more than a little ominous, as it turned out that both wrestlers have checkered pasts: Rance is a registered sex offender, having copped a Nolo Contendere (no contest) plea to Florida's equivalent to statutory rape, and text messages purporting to show Epic admitting to domestic abuse surfaced in 2014.
Those details spread quickly on Twitter, albeit focusing more on Rance than Epic, given that Rance is better known, and also the one who was charged with and convicted of a crime. Google his name and an Orlando Sentinel article with the details of his case is the second result.
This sort of revelation is often followed by arguments about offenders potentially being rehabilitated, but Rance's public statements, none of which are very difficult to find online, suggest that he's not that guy. In 2014, after Rance's case was mentioned in a in a fan's blog post about "wrestling with sins," someone purporting to be the wrestler posted in the comment section. There, the person claiming to be Rance disputed facts of the case taken from the Sentinel article, which were themselves taken from the criminal complaint, implied that he could sue the blogger, and then made vague claims about "a setup to sue me for $1,000,000." The commenter also added that "I spoke with the 'victim''s [sic] father two days ago who told me I'm a good person and he loves me," which gives some credibility to this actually being Rance. Per the complaint, the victim's father was pro-Rance and largely estranged from his daughter prior to the arrest. A cannabis forum thread from 2013, of all things, starts with a member relating a story of going to the gym and meeting Rance, who he said talked about just having gotten off probation (which was actually the case) and claimed that he didn't know the victim's age—this despite his admission to knowing she was underage in a recorded phone call. In addition, two former friends of Rance told Deadspin that he had made semi-joking references to being into "all ages" if they had developed past puberty.
G/O Media may get a commission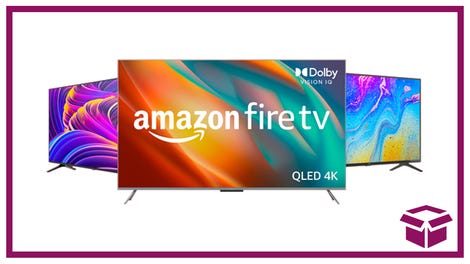 Ooh. stunning.
New Amazon Fire TVs
Back in 2018, as the "CEO x NJPW" show went on last Friday, the best theory that anyone could come up with on Twitter about that opening match was that, given that Rance has a wrestling ring rental business, he was able to parlay that into a high profile booking. That type of thing isn't unique to Rance, or even terribly rare. If a wrestler offers ring rental and/or use of their promoter's license—the latter only applies in an athletic commission states, which Florida is not for wrestling—they often use it to get onto their customers' shows. Still, it's not as if Rance is the only person offering ring rental in central Florida, and being a registered sex offender is literally what he's best known for within wrestling. Just as conspicuous as the lack of ring introductions that opened the show was CEO promoter Alex Jebailey bookending the show by, for no apparent reason, mentioning that they were using a brand new ring in his speech after the main event.
Jebailey has said not a word publicly about about any of this, nor has he responded to either of two requests for comment sent to him for this story. Omega, for his part, started touching on what happened in responses to disappointed fans on Saturday morning. "Sorry you feel that way and are so quick to pass judgment on someone," he wrote. "Looks like the disappointment goes both ways." (A few minutes later, he clarified that "I meant the judgment you passed on me.") After another response in which he continued to fault fans' treatment of him, Omega tweeted a threaded statement, albeit in replies and not to most of his followers' feeds:
Here it is: I produced all matches from dark match #2 on. I gave the ring crew (also a wrestling school) carte Blanche to have our first dark. No entrances, no name graphics. And thus they had a match. I met Chasyn once in 2004 so his name was familiar. The other guy I'd never met. Regardless of their history or whatever, this crew of people were all very helpful in set up, tear down, and various odd jobs around the arena. I'd felt giving them the opportunity to have a dark match was the least I could do as a way to show appreciation.

Regardless of their history or whatever, this crew of people were all very helpful in set up, tear down, and various odd jobs around the arena. I'd felt giving them the opportunity to have a dark match was the least I could do as a way to show appreciation. I'm gutted that people feel betrayed by their involvement, but at no point did I feel I was working with criminals or anything of the sort. As I'd said earlier, they were nothing but polite and helpful throughout the entire experience.

I'll know better for next time to only use those I'm absolutely familiar/comfortable with.
Omega's emphasis on how "at no point did I feel I was working with criminals or anything of the sort" and the politeness of the ring crew rubbed some people the wrong way, and so several hours later, he tweeted another, more contrite statement/apology, which included an offer of refunds. To be fair, Omega is a very legitimate candidate for not knowing about Rance's sex offender status—he's lived in Japan close to full-time for about a decade and very rarely works in America, so it makes perfect sense that he'd only know Rance from when they worked on the same show in 2004. On the other hand, though, there's his statement that "I'd allowed our ring crew (also a wrestling school) to participate in a dark match (minus graphics and music) as a show of appreciation for the hard work they'd done to help prepare our set for the show." The only school that would be sending over Rance and Epic as part of a ring crew would be Team Vision Dojo, which Rance owns and where he and Epic are both instructors. It isn't clear if Omega knew that or not, either. After all, of the two public-facing producers of the show it's Jebailey and not Omega who is local; Jebailey has also previously rented rings for use in his fighting game tournaments.
Later on Saturday, an Instagram post of Jebailey's from CEO 2016 surfaced (screenshot here), which showed him with Omega, Rance, and Japanese wrestler Michael Nakazawa. Jebailey's caption read "Huge thank you to @KennyOmegamanX introducing me to @TeamVisionDojo who supplied the #CEO2016 wrestling ring!" Omega commented on Sunday in a thread started by Daily Dot esports morning editor/UK indie wrestling announcer Callum Leslie, saying that what Jebailey wrote two years ago wasn't true. "There was no introduction, I believe Jebailey did the footwork on his own," he wrote. "He's been using rings for years—long before my time with CEO. Perhaps because it was his first 'wrestling ring,' he gave the guest wrestler the credit? I don't IG and this is the first I've seen/heard of it." As noted earlier, Jebailey has not responded to two separate requests for comment, one of which directly addressed the Instagram post and Omega's comments about it. (NJPW also did not return a request for comment on this story.)
In addition to the issues for Omega, there was a side effect to all of this: Rance becoming more widely known as a registered sex offender. He was already a well-known name within indie wrestling, but Omega's star power made it a major story on numerous highly-trafficked wrestling news websites. It even hit some non-wrestling blogs, including one post that got tweeted out by alt-right vlogger/former Project Veritas member Laura Loomer. All the additional attention means that in the grand scheme of things, the appearance probably hurt Rance's career more than anything else. Promoters now know that getting caught dealing with him will lead to negative attention, and thus is really not worth the hassle given that there are better wrestlers and other rings available. The high-profile spot in which Rance found himself, which probably would have helped most wrestlers' careers, was more likely a huge hit to his career going forward.
As for Omega and Jebailey, someone lied, either last week or two years ago, since there are two completely contradictory statements. We may never know which it was, but we know this much: NJPW brass trusted Omega, the face of their international expansion, to do a professional job putting together a show under their name when he had never run a show before. What he did with Rance and Epic may be common practice on the independent scene, but he ultimately failed his company by putting outside talent on a NJPW-branded event without doing even the minimum in terms of checking up on who they were. It all could have been avoided if he had considered that opening an "NJPW" show with two random indie wrestlers was not what that audience was looking for in the first place. He didn't, and here we all are.
---
David Bixenspan is a freelance writer from Brooklyn, NY who co-hosts the Between The Sheets podcast every Monday at BetweenTheSheetsPod.com and everywhere else that podcasts are available. You can follow him on Twitter at @davidbix and view his portfolio at Clippings.me/davidbix.