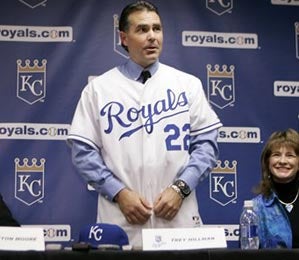 We like the idea of a major league manager named "Trey." It seems like an oddly informal name for a manager: We imagine them all having grizzled old-guy names, like Whitey, or Miller. But new Royals manager Trey Hillman is fresh off years with the Nippon Ham Fighters, and he's got, like, a new attitude or something. He also left the Japanese league a bit hanging.
Just eight days before signing with the Royals, Hillman opened a new restaurant called Hillman's Hangout.
If you're ever in the Sapporo-neighborhood and get a hankering for an Onion Loaf with a Thousand Island sauce, stop on by to Hillman's Hangout.
We've always enjoyed coach-themed restaurants; the steak is lousy, but we hear the ham is excellent.
This Post Is Not About A-Rod; It's About Trey Hillman [UmpBump]
Hillman's Hangout [Official Site]