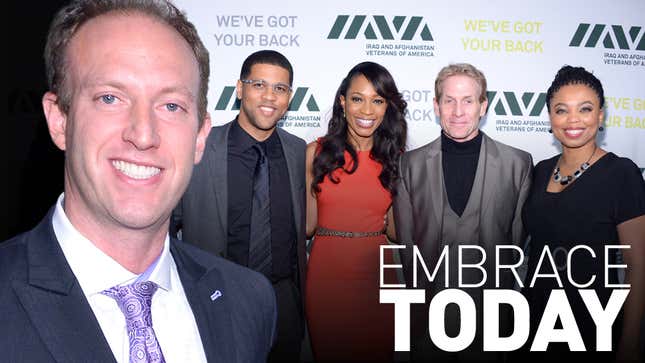 ESPN vice president Jamie Horowitz, the midwife of Bristol's "Embrace Debate" era that made us all a little dumber, has been approached by NBC to take control of the Today show, according to two sources. A deal appears likely, we're told, though Horowitz still has to extract himself from his contract with ESPN. At the moment, one source says, ESPN president John Skipper is trying to coax a sizable ransom out of Comcast, NBC's parent company. The source put the chances of the deal going through at "70-30 or 65-35."
Bass' ERA stinks, but not compared to who he is off the mound | Worst of the Week Countdown
[Update: ESPN won't let him out of his contract, reports Sports Business Daily's John Ourand.]
It's not clear what Horowitz's new position would be. We're told that Don Nash would stay on as Today's executive producer and that Horowitz would oversee him.
Horowitz got his start at NBC Sports, working as a researcher for the 2000 Olympics and quickly making his way into the producer's chair. He signed up with ESPN in 2006, an outsider to Bristol who would soon be handed a large share of power and autonomy in a place that tends to reward lifers who climb the ladder from within.
You may not know of Horowitz, but you know his work—SportsNation, Numbers Never Lie, Olbermann. He was the man responsible for the 2011 overhaul of First Take, which has been great for ratings and terrible for everything else. The show, now co-hosted by Skip Bayless and Stephen A. Smith, traffics in the television fallacy that debate is a good unto itself—that every issue has two sides and that the truth of any matter lies at some point equidistant between a pair of shrieking boobs.
Staged disagreement was the model, and it gave us everything from Tebowmania, which began as a First Take phenomenon before it swallowed up the whole of ESPN, to the time Richard Sherman played the dozens on Bayless's head to the moment Rob Parker more or less called RGIII an Uncle Tom. (Not everyone at ESPN thought Horowitz would survive the latter two incidents.)
"He has some fans" within ESPN, one source says, "and he has a lot of detractors."
Even his critics allow that Horowitz is an expert handler of talent, someone who can work with egos as diverse and cumbersome as Smith's and Bayless's and Keith Olbermann's. "Those are big-ticket items," a source says. "It'd be like if somebody at NBC was in charge of Brian Williams, Matt Lauer, and Savannah Guthrie."
Whatever their outcome, the negotiations raise all sorts of awkward questions for all parties. What does it say about Today that NBC wants to bring in the shit-stirrer from Bristol? What does it mean for Good Morning America that a Disney guy might take over its direct competitor?
And what would happen in Bristol if Horowitz blew town? One ESPN Kremlinologist suggests that it would "really upset the culture" for someone of Horowitz's stature to leave—and leave for a competitor, at that. "ESPN is a place you go to," a source says. "It's a destination. It is not the farm team. It is not off-Broadway. It is Mecca. It's like, nobody buys a roundtrip to Bristol."
There are more specific concerns as well. Would First Take, Numbers Never Lie, et al., suffer without their patron? (Behind everyone's back, NNL, a sort of First Take with calculators, has grown steadily since its debut in 2011. The show pulled in 159,000 viewers a day in 2012, according to Nielsen, and 217,000 in 2013.) Would, say, Stephen A. Smith suddenly become expendable when his contract is up?
"It's going to be an interesting experiment," a source says. "We're going to see if Jamie's sensibilities are woven into the fabric of the show. Are they going to tamp down on some of this stuff and say, 'Skip, you're a total cliché, a parody of yourself'? Or are they going to say, 'Keep on doing it, guys'?"
Image by Jim Cooke; source photo via Getty.