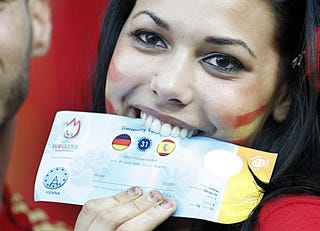 Fernando Torres is owning shit so far and Spain could be running away with this thing if Torres' first big opportunity didn't go off the goalpost. Jens Lehmann looks overmatched, which is a shocker, and right now Germany's best chances are coming on ticky tack free kicks.
The majority of the first half was pretty sluggish but things have started to pick up. If Germany wants to do anything, it'll stay that way. YES, I KNOW THEY'RE COMPOSED! THEY'RE GERMANS!
WHAT'S THAT ON ABC'S THE OUTSIDERS? PEOPLE TREATING MONKEYS AS CHILDREN!? Rise, fellow simians, rise!
Whew. Excuse me there.
Germans making a good-faith effort to advance the ball at the opening of the half, but Spain maintaining good containment on passing lanes.
Silva might just want to leave the shooting to Torres.
Best chance for the Germans so far in the 60th minutes goes wide. And Angela Merkel could use a George W. Bush backrub.
And Silva comes out at the 66th minute. 'bout time.
Casillas punches a shot off to somewhere near Madrid.
Somehow Torres gets a yellow card for colliding on a header. The officiating in this game is horrible.
That's a big whiff by Marcos Senna right there. However, we've down to the final 10 minutes and the German's aren't coming out with much in the way of a response.