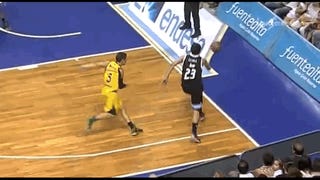 Unlike that tennis lineswoman, this basketball referee definitely has an excuse for crumpling to the ground after Sergio Llull of Real Madrid Baloncesto's errant pass bounds directly into his face. Llull even gets a taste of his own medicine when the thing doinks off the ref's head and into his own.
Here's a video of the full play:
Let it be known: this is what hustling gets you.