Over at Ladies, we've started a series called the "Friday Football Foodie" which centers on the third best aspect of football weekends, (behind the games themselves and gambling, respectively), which is the massive amount of eating and drinking you can do while hanging out with your friends. It is the one time of the week you don't have to worry about calories, fat, and never have to say, "Oh, no. I cannot possibly eat another bite, I'm full. And can I have a water, please? Beer makes bloated." It is in fact, a perfect day. But the Friday Football Foodie posts have been centered on recipes for everyone to make at home for entertaining or for going to a pals house. What if you are on the road and want to make sure not only your sports viewing experience is superb, but you're going to have more options than just stale Beer Nuts and Hamm's?
This weekend I'll cover a few of the spots that I visited here in Chicago this weekend, but everyone should add their favorite locals in the comments.
Joe's Sports Bar
We "watched" - Steelers vs Redskins
What we had - Baked Mac & Cheese Bites (seen above), Toasted Ravoli, and about seven vodka tonics, two Manhattans, several Jack and Diets, and three or four Stellas. (This was for a party of three.)
The cost - Very reasonable. Now that I think about it, this bill would have cost three times as much back in Los Angeles.
The Review - We had specifically gone to Joe's because it is a known Steelers bar and were not disappointed in the least. This season, the NFL has decided to blackout games not being shown locally, even if you pay for the NFL Sunday ticket and all of the local Fox channels. Alas, we were able to enjoy the game and all the other fans who had come out for the same thing. The Baked Mac & Cheese was excellent, and the Toasted Ravoli were a nice variation made with cream cheese and jalapeno. Portions were generous, and both were served with a ton of fries. The beer selection could be a little stronger, but if you're a beer snob who cannot make due with an occasional Newcastle or Stella, you really should just SFTU when the game is on.
Fado's Irish Pub
What we watched - Man U v Man City, Chelsea v Liverpool
What we had - Bacon Butty, Full Irish Breakfast, Full Irish Breakfast, Strongbow Cider, Irish tea, hot chocolate
The cost - I only saw the second round of the tab, so hard to judge. Not unreasonable.
The Review - Hardcore football fans fill this joint, and I think I was the only one not wearing a kit of somesort. The vibe was fun, cute boys with English accents asked to use my laptop to find things at the break with the free wifi they had, and the staff was very attentive. Breakfast was excellent, perfect for a night after drinking and starting the next day, even if the games start at 7am local time. I had no idea that Irish bacon was so tasty! My only regret is that I didn't order Beans on Toast a little later on in the morning.
Ginger's Ale House
What we watched - PL, MLS, and baseball highlights. (We came here after the Cubs game on Friday.)
We had - Spinach Artichoke Dip, Sheppard's Pie, All-You-Can-Eat-Fish-And-Chips, Strongbow Cider, vodka tonics, and a bunch of other beers.
The cost - There was a group of six of us, and I didn't get a chance to see the bill. The Fish and Chips special was only $9.
The Review - I would come back here in a heartbeat and my host for the weekend says he comes here for all of the PL games. Plenty of TVs, three rooms in size to handle the crowds, and a staff that was above and beyond helpful. The Spinach Artichoke Dip was one of the best I've ever had anywhere. I'm generally not a fan of fish, but the piece I tried was nicely fried, not too greasy, and the fish was still light and flaky on the inside.
O'Donovan's
We watched - To be honest, this time we came here for dinner with an old school chum of mine and sat on the patio to gossip, but I've been here to watch college football in the past and it did not disappoint any of my Notre Dame, Purdue, and Michigan friends.
We had - Bacon Egg & Cheese Sandwich, 3 B's - BBQ sauce, bacon, and blue cheese- Chicken Breast Sandwich, Veggie & Avocado Burger, Smoked Turkey Panini, homemade chips, Fat Tire, vodka tonic, a Czech beer, and something else I forget
The cost - School chum and her husband insisted on paying the bill, so I didn't see the damages. Those paychecks in print newspapers really must be better than "new media".
The Review - Excellent as always. I think I've been to O'Donovan's three times now in my various trips to Chicago, and they have never let me down. The 3B's sandwich was exactly what I needed after a long day, (especially when I would never dream of ordering this in LA surrounded by every Size 0 that central casting can find), and the homemade chips were perfectly done.
G/O Media may get a commission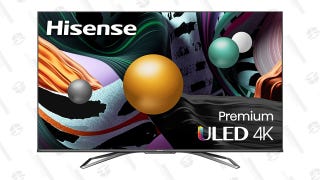 Save $350
Hisense ULED 65" Android 4K HDR Smart TV
Tomorrow I return to LA, where I will go back to my usual routine of eating uber-healthy all week so I can splurge for football watching weekends. Thanks Chicago for keeping me well-fed this trip, and a special thanks to my host who made sure we saw and did as much as we could in the time I was here.
-TheStarterWife
Programming note - This is not your DUAN thread. Clare's taking you home in just a bit.