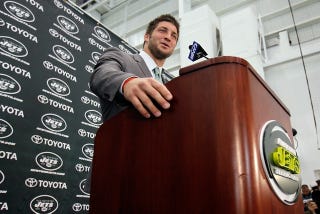 In a win for guile over coincidence this weekend, the New York Daily News has a fluffy profile piece on the redemptive powers of Tim Tebow highlighted by the story of four criminals (rather than the traditional two). It is your standard fare: Tim Tebow is a good Christian, visits prison, inspires inmates to change their lives for the better. It also starts off with what has to be considered one of the all-time great lead sentences in history.
Willie James Ashley is a 55-year-old former Air Force man from Miami who had a long career in the cocaine business and once caught a pass from Tim Tebow.
Well I'm sold, Daily News. The article, a treasure trove of unintentional comedy, goes on to profile four inmates who credit Tebow with showing them the way. Here's a quick dossier on the gentlemen Tebow has inspired.
Willie Ashley
Personal: Father of nine, by three different women. Star of the profile.
Crime: "Four years ago, Ashley was driving north on I-95 between Daytona and St. Augustine, with 1,200 grams of cocaine in tow. The cocaine was in a shoebox on the floor of the passenger seat. It was 3:30 in the afternoon. He was a half-hour from his dropoff location when he got pulled over for a routine traffic stop, going 76 in a 70 mph zone."
Thoughts on Tebow: "As he prepared for Easter Sunday and contemplated his own sort of rise, Willie Ashley found it fitting that he and the man who threw him a pass and changed his life have similar agendas. Tim Tebow is trying to establish himself as a front-line quarterback and to help the Jets win and prove that what he brings to his position far outweighs what he doesn't bring. Ashley is trying to establish himself as a law-abiding citizen and trustworthy husband and father, and prove that he deserves a fresh start."
Reginald Spivey
Personal: n/a
Crime: Aggravated assault, with three years remaining on his sentence.
Thoughts on Tebow: "He could've been at any club or party and has the whole world in his lap. Instead he came to a prison to talk to us. That says a lot about his character[.]"
Tyron Thomas
Personal: Second cousin of United States Supreme Court Justice Clarence Thomas
Crime: Not a whole lot of info on Tyron, unfortunately. There is a pen pal profile for a prisoner with the same name serving a life sentence, but it's in Pennsylvania. Being related to Clarence Thomas will have to suffice.
Thoughts on Tebow: "'Being in prison you automatically see the worst in people,' Thomas says. 'You meet a lot of people who pick up the Bible and when they put it down you can never tell they read it. There was just something about Tebow, and how he truly believes in the word of God. It's kind of freaky, actually. It's not something you see too often.'"
Gerald Evans
Personal: Robber with a conscience. "Evans robbed a Jacksonville bank and ran off with a sack of money. He felt so guilty about it he returned it the next day and turned himself into authorities."
Crime: "[a]rmed robbery at a KFC...a new low" ten years after the bank robbery.
Thoughts on Tebow: "'I was at a pivot point in my life. Sometimes you need a spark, and hearing him was my spark,' Evans says. 'If I don't change, I will remain this way the rest of my life. If I do change, I can find a whole new way. I am working on changing the way I think, changing the way I act.'"
Happy Easter everyone!
NY Jets quarterback Tim Tebow, through talk and prayer, is helping turn inmates' lives around [NY Daily News]