Sports Illustrated's latest cover story is about New Orleans Saints quarterback Drew Brees, who is in his 18th season in the NFL and has long been acknowledged as one of the greatest of all time. In the waning years of a great player's career it makes sense that SI would do a big ol' feature on the guy, but a glossy story about how a great and celebrated quarterback is great and celebrated lacks a certain element of drama. SI senior writer Greg Bishop settled on a strange solution to this problem: pretend like he's the only person who understands that Drew Brees is good.
"It's time to rethink Drew Brees," the cover trumpets. "Please stop calling him an underdog." Of course the story never mentions exactly who is not thinking correctly about Drew Brees, an 11-time Pro Bowler who won a Super Bowl and who this season became the all-time leader in passing yards, or who is calling him an "underdog."
Brees has certainly faced obstacles in his career (what player hasn't?), but Bishop strains credulity to write the myth of Drew Brees, just so he can tell you that myth is wrong. First, he lays out the facts: Brees is short for a quarterback; he was injured in high school; he was underrecruited; he struggled in his first two seasons starting for the Chargers; he got injured again and needed shoulder surgery in 2005, and then came back and won a Super Bowl. So far, so good. Then things get a little out of control:
So as the years passed, the story of the short signal-caller who conquered insurmountable odds—the kind of story sportswriters love to tell almost as much as fans love to ingest—morphed into folklore. Brees became the 6-foot, twice-injured savior who scrapped his way to football immortality. The little quarterback who could. But any narrative that centered on height and shoulder surgery went too far.
G/O Media may get a commission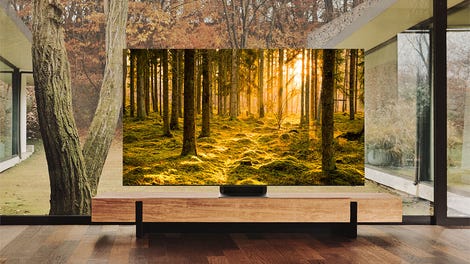 Up to 40% off
Samsung Smart TVs
And later in the piece he writes: "Yes, the injury and the surgery and the recovery are still part of it. So is Katrina. But so are all the numbers, and the wins, and the performances that are, dare we say, superhuman."
In this story we have Bishop mounting an argument to refute an opinion that absolutely nobody has. Who exactly has spent any time in the last decade imagining Brees as some sort of plucky lumpkin who keeps overachieving? Who isn't transfixed by his 517 career touchdowns? Who doesn't care about his numbers, wins, and performances? Bishop never bothers explaining, and instead goes right on winning his argument against nobody:
Come on. Brees threw for 90 TDs and almost 12,000 yards at Purdue. He won his seventh passing title in 2016, 11 years after he won his first. He owns five of the nine 5,000-yard-plus passing seasons in NFL history. More than half! Sure, Brady and Rodgers had their own origin struggles, but the focus of their stories evolved to center on their otherworldly gifts. Brees? Still the little guy with the big heart.
Then Bishop tediously compares the similarities between Brees to Rodgers and Manning and Brady (spoiler: they're all competitive and fastidious) before reaching his point:
So what, exactly, makes Brees the underdog? What makes him any more human than those others? Short answer: nothing, unless we cling to a few inches of height. And "we're talking frog hairs here," says Tom House, the longtime throwing guru who has long worked closely with both Brees and Brady. "If [Brees] was doing this stuff by himself, it would just be absolutely amazing. [But] he's been hiding in a crowd."
Nothing makes him the underdog, because he's not an underdog. He's one of the best quarterbacks to have ever played the game, and everyone recognizes him as such. The only time Bishop gets anywhere near someone—anyone—saying Brees is an underdog or that he's overlooked is when he quotes Brees's former teammate, LaDainian Tomlinson, who claims that Brees "still hasn't gotten the due he deserves."
Bishop's embarrassing use of the majestic plural—"The problem with Brees and his place in the pro football pantheon is that the story of his career, while fascinating, inevitably leads us to the absolute wrong conclusion"—his grating overuse of italics—"Meanwhile, here's Brees, this middle-aged guy, just plugging along off to the side, coaching flag football"—and his combining of the two—"It's like we're more proud of him for his greatness than we are transfixed by that greatness the way we are with, say, Brady and Rodgers and Manning"—are glaring signs that his story is hung on a loose nail. At one point, a dozen years ago, NFL teams doubted Brees's ability to lead a football team, and that's a fine detail to include in a profile. But to say that Brees, who, again, has made the Pro Bowl 11 times and won a Super Bowl, is somehow overlooked and then pin that stupid take on the rest of us so that a profile can be built in opposition to it betrays either a startling lack of knowledge of the current NFL or a willful misrepresentation of it.