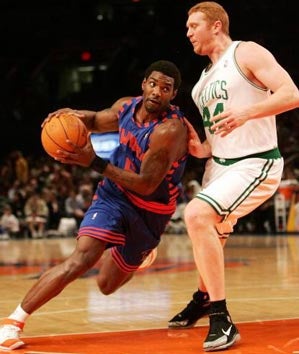 In case you're one of the people who would love to see Michael Vick tossed into jail for a decade while he deals with his own rape stand, it might be instructive to look at the case of former Portland Trail Blazer Qyntel Woods.
Sports By Brooks reminds us that, as recently as 2004, Woods was charged with dogfighting himself. He was busted when police found him abandoning an injured dog on the side of the road, which, while better than electrocuting it, still isn't so cool.
Woods received 12 months probation and 80 hours of community service, perhaps picking up dog excrement.
SBB believes this augers no jail time for Vick. We think that if Qyntel Woods was as famous as Michael Vick, he'd probably still be in prison.
NBA Player Got No Jail Time After 2004 Dogfighting Charge [Sports By Brooks]