Damon Bruce is a sports radio host on KNBR 1050 is San Francisco. It appears that he is also a fucking nutjob. Yesterday, Bruce spent nearly nine minutes going on a misogynistic tirade about how sick and goddamn tired he is of women ruining sports with their stupid emotions and opinions. It was really something.
Somehow, Bruce's meltdown was inspired by the Richie Incognito-Jonathan Martin saga, which Bruce seems to think is being covered incorrectly (he's on Incognito's side, by the way), because women have turned pro sports into a world that is full of stupid sissies. It doesn't really make any sense, but here, have a listen (thanks to Awful Announcing for the audio):
If you don't want to spend eight minutes listening to a guy belch-talk at you about machismo and how big his dick is, we've transcribed some of the more ridiculous statements below.
A lot of sports has lost its way, and I'm gonna tell you, part of the reason is because we've got women giving us directions. For some of you, this is going to come across as very misogynistic. I don't care, because I'm very right.

[...]

There is a serious group of you fellas out there that have just been so feminized by the sensitive types out there who continue to now interject their ultra-feminine sensitive opinions into the world of sports.

[...]

I enjoy many of the women's contributions to the sports—well that's a lie [lauging]. I can't even pretend that's true. There are very few—a small handful—of women who are any good at this at all. That's the truth. The amount of women talking in sports to the amount of women who have something to say is one of the most disproportionate ratios I've ever seen in my life. But here's a message for all of them...All of this, all of this world of sports, especially the sport of football, has a setting. It's set to men.

[...]

This is guy's stuff. This is men's stuff. And I don't expect women to understand men's stuff anymore than they should expect me to be able to relate to labor pains.
G/O Media may get a commission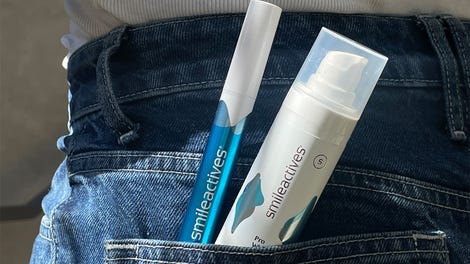 58% off
Whitening Powerhouse Pen & Gel Duo
There's plenty more, but I can't really stand to transcribe any more of it.