Mel C, more commonly known to those of us who grew up in the 90s as "Sporty Spice," is upset by designer Danny Boyle's decision to exclude the Spice Girls from his Olympic opening ceremony playlist. Since the rumored playlist has not yet been confirmed, Sporty hopes it might not be quite right. She told The Mirror:
I'd be really upset if the Spice Girls weren't included in the Olympics, whether it be the opening or closing ceremonies or any other playlists, because I think we absolutely represented Britain in the 1990s.

We literally flew the flag—and Geri even wore it—around the globe.
Although the 90s girl-power-pop group is not listed on the playlist, the 86-track lineup, which features a solid mix of traditional and contemporary British music, does include everything from classics like The Beatles' "She Loves You," to the theme from James Bond. Even some controversial selections from the British punk era such as the Sex Pistols' "God Save The Queen" made the list, despite lyrics suggesting the Queen "ain't no human being." (Her Majesty will be in attendance, by the way.) Much more detestable, however, is the decision to include not one, but two Oasis songs. I've heard one too many sloppy, booze-fueled renditions of "Wonderwall." If I ever hear that song again, I will vomit on someone. I'm sure the Queen would agree. Also weird: progressive rocker Mike Oldfield's only two hits "Tubular Bells" and the Christmas song, "In Dulci Jubilo," made the cut. Don't fret. There was still room for "Chariots of Fire."
And still the Spice Girls—"the most widely recognised group of individuals since John, Paul, George, and Ringo," according to Rolling Stone writer David Sinclair—were overlooked, it seems, for the other British girl pop group, the Sugababes, whose song "Push the Button" once reached the top five. Also surprisingly absent are rock-gods Genesis, disco's Bee Gees, and Sir Elton John. But, you know, with all the cow and sheep action happening on Boyle's grandiose English countryside/"Isle of Wonder," setup, who will even notice?
Here's the full list: [Telegraph]
Captain Algernon Drummond, William Johnson Cory - Eton Boating Song
Elgar, AC Benson - Land of Hope and Glory
The Jam - Going Underground
Muse - Map of the Problematique
Sex Pistols - God Save the Queen
The Clash - London Calling
Simon May - EastEnders Theme
Sir Hubert Parry, William Blake - Jerusalem
Elgar - Nimrod
Handel - Arrival of the Queen of Sheba
Eric Coates - Dambusters March
Handel - Music for the Royal Fireworks
Monty Norman - James Bond Theme
Mike Oldfield - Tubular Bells
Mike Oldfield - In Dulci Jubilo
Vangelis - Chariots of Fire
Arthur Wood - The Archers Theme
Winifred Atwell - Black and White Rag
Sugababes - Push the Button
OMD - Enola Gay
David Rose - The Stripper
Lionel Bart - Food Glorious Food
Irwin Kostal, Richard Sherman, Robert Sherman - Bedknobs and Broomsticks
Rizzle Kicks - When I Was a Youngster
Eric Clapton - Wonderful Tonight
Colin Tully - Gregorys Girl Theme
William Pitt - City Lights
The Who - My Generation
The Rolling Stones - Satisfaction
Millie Small - My Boy Lollipop
The Kinks - All Day and All of the Night
The Beatles - She Loves You
Mud - Tiger Feet
Led Zeppelin - Trampled Under Foot
The Specials - A Message to You Rudy
David Bowie - Starman
Queen - Bohemian Rhapsody
Sex Pistols - Pretty Vacant
Duran Duran - The Reflex
New Order - Blue Monday
Frankie Goes to Hollywood - Relax
Soul II Soul - Back To Life
Happy Mondays - Step On
Eurythmics - Sweet Dreams (Are Made of This)
The Verve - Bittersweet Symphony
Prodigy - Firestarter
Underworld - Born Slippy
Jaan Kenbrovin, John William Kellette - Im Forever Blowing Bubbles
Blur - Song 2
Dizzee Rascal - Bonkers
Tigerstyle - Nachna Onda Nei (featuring Michael Jackson - Billie Jean, Queen & David Bowie - Under Pressure and Ilaiyaraaja - Naanthaan Ungappanda)
Arctic Monkeys - I Bet You Look Good on the Dancefloor
Mark Ronson & Amy Winehouse - Valerie
Radiohead - Creep
Muse - Uprising
Kano & Mikey J - Random Antics
Tinie Tempah - Pass Out
MIA - Paper Planes
Coldplay - Viva La Vida
The Chemical Brothers - Galvanize
Franz Ferdinand - Take Me Out
Kaiser Chiefs - I Predict a Riot
Roll Deep - Shake a Leg
Adele - Rolling in the Deep
Oasis - The Hindu Times
Oasis - Wonderwall
Emeli Sande - Heaven
William Monk/Henry Francis - Abide With Me
Pink Floyd - Eclipse
The Beatles - The End
The Beatles - Hey Jude
David Bowie - Heroes
Eric Spear - Coronation Street Theme
Ron Grainer - Doctor Who Theme
John Philip Sousa - Monty Python Theme/The Liberty Bell
David Bowie - Absolute Beginners
G/O Media may get a commission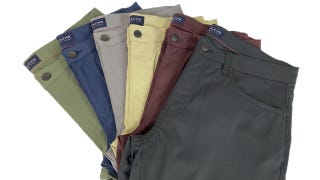 JACHS NY Fall Stretch Tech Pants