Good news: No matter how you do your seasonal accounting, it's definitely spring now. You're already kinda bored with baseball, you've got mud in previously undiscovered orifices, and your favorite fair-weather hot dog stand will come and go before Dick Vitale screams at you again. Furthermore, I solemnly swear not to let another flake of snow hit your driveway before the pumpkin beers hit the shelves.
"But wait, handsome weather guarantor," you say. "Of course there won't be snow by then, for pumpkin beers come out in July, ha ha, bitch bitch, your plot is busted, just like my soul, because the only thing that truly brings me joy is complaining about the premature release of seasonal beers."
And I get it. You're right. I am handsome, and spring beers started showing up about 18 inches of snow ago. And I'll do you one worse and point out that a lot of seasonal releases are gimmicky nonsense. But regardless of my personal preferences and handsomeness, the issue's moot, because I've missed the window of spring beer relevance by now. It's high time we start grousing about this year's crop of summer beers, too many of which are shandies and radlers and whatever other words they use to mean "two-thirds of a light beer topped with shitty citrus soda."
But let's just skip all that. Let us instead honor the season by considering pilsner, a classic European style that has been the perfect beer for warmer months since well before an American thought to market beer based on the shape of either the can or the woman holding it.
Pilsner was first brewed in 1842 in Plzen, Bohemia (now part of the Czech Republic), where Pilsner Urquell, the style's standard-bearer, is still headquartered. If your only experience with European pilsner is skunk juice from a dusty-green Urquell bottle, try to find some in a fresh can. I don't think it quite matches the top tier of the American knock-offs detailed below, but it's a good beer and a proper introduction to the pilsner category.
G/O Media may get a commission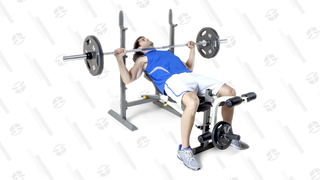 10% Off
Marcy Folding Weight Bench
Though born in Bohemia, pilsner was based on Bavarian brewing techniques; the beer's unique character was initially attributed to the German lagering process applied to beer made with the super-soft local water and dosed with Saaz, which is still the Czech Republic's staple hop. German pilsners rely heavily on Hallertau and Tettnanger hops. A lot of American versions identify themselves as being modeled on either the Czech or German style, but the distinction doesn't translate very cleanly: "Czech pilsner" may still imply Czech hops, but we can't replicate the magic water, and most American craft pilsners employ a mishmash of European noble hops.
The resulting beers are the Platonic ideal of the fizzy yellow macro-crap that defined American brewing for the latter part of the 20th century: light-colored, medium-bodied, highly carbonated, crisp, and refreshing. You can read a thorough yet succinct definition here.
Presented below is a ranking of 24 American craft pilsners I was able to get my hands on. Pilsners are better fresh, which is one reason they're not widely distributed beyond their home market. There are some reputedly great pilsners out there that I simply couldn't track down: I've heard good things about Moonlight Brewing's Reality Czeck, Heater Allen Pils, Great Lakes The Wright Pils, New Glarus Edel-Pils, Schlafly Pilsner, and Troeg's Sunshine Pils. And I have very fond memories of Berkshire Brewing's Czech Pilsner, but it's not available until later in the spring. None of these beers should be considered inferior just because they didn't make this list. So this is the paragraph I'm going to refer you to when you say, "What, no love for ManJuice Pilsner Supreme? U r gay and dumb!"
Let me explain my methodology: First I drank a wicked lot of beers, then I arranged them into a list. I took stylistic authenticity into account, which basically means I didn't let myself get distracted by brewers who tried to cheat the game by throwing a ton of hops in my face. Pilsners are not especially hoppy beers, by American craft standards. So if you brew a hoppy pale lager and call it a pilsner, I might love your beer, but you might get docked a couple spots.
As always, this is just one handsome dipshit's opinion. It is definitive and legally binding, but you may reasonably (if illegally) disagree.
24. Southern Tier Eurotrash Pilz (Lakewood, NY; 5.2 percent alcohol by volume)
Southern Tier gets points for releasing this as their spring seasonal, but they lose back those points for producing a lackluster, under-carbonated beer with a malty taste of sweet cereal grains that goes unsupported by any discernible hops or bitterness. Eurotrash is rendered drinkable by a faint suggestion of flinty fruit, like an $8 white wine grown in unforgiving soil by a man of middling talents. Southern Tier is a reputable operation best known for big, inventively flavored ales; maybe they're not temperamentally suited to the quieter pilsner game?
23. Brooklyn Pilsner (Brooklyn, NY; 5.1 percent ABV)
This has a deep apple-juicy color and an unattractive vegetal smell reminiscent of cheap jarred spaghetti sauce. The taste is too malty, decent but flabby, and unchallenged by hops. I like Brooklyn beers and had high hopes for this one.
22. Lakefront New Grist (Milwaukee, WI; 5.1 percent ABC)
This gluten-free offering will do you fine if you're one of the brave warriors who insists on drinking beer in the face of a barley allergy. It tastes like sweet fruit, less like a beer than a well-done strawberry-melon craft-malt beverage, which is better than it sounds. Lakefront should consider adding a bit of fruit juice and marketing it to gluten-users as Strawberry Pilsner.
21. Dogfish Head Piercing Pils (Milton, DE; 6 percent ABV)
This exotic joint is brewed with pear juice and tea. It smells like straight cheap lager, with a terrifying if subtle whiff of macro-import skunkiness. There's a light fruit that I might have guessed was apple but is apparently pear, and the predominant impression is of sharp, woody hops augmented by the dryness of the tea. The additives help a little (flavored beers get a bum rap), but the base isn't as good as you'd expect from one of the country's best breweries. There may just be too many competing and contrasting ingredients, resulting in a muddled clash rather than a complementary whole. It gets better as it opens up, which is all well and good, except who lets his pilsner open up?
20. Oskar Blues Mama's Little Yellow Pils (Lyons, CO; 5.3 percent ABV)
This has a honeyed nose and a thick head. The sweet smell yields to a somewhat sour flavor suggestive of earthy lemon tea. It's a touch gassy and bitter for my taste, but not a bad beer.
19. Lagunitas Pils (Petaluma, CA; 6.2 percent ABV)
The smell carries a faint hint of Belgian-like banana and spice, which is as pleasant as it is weird. The flavor is sharp and assertive from the start, not as spicy as the nose but still hoppy enough to hide the yeast and bready malt, and turn a potentially complex beer into a one-noter. This tastes, predictably enough, like a California hop-house version of a pilsner.
18. New Belgium Blue Paddle (Fort Collins, CO; 4.8 percent ABV)
This starts with sweet notes of grain and lemongrass before the hops come to the rescue on the finish. This is a very clean, honest interpretation of the style that happens to be maltier than I prefer.
17. Stoudt's Pils (Adamstown, PA; 5.4 percent ABV)
This tastes like upscale Budweiser. It's a good beer that's gritty, spiky, and aggressive, but ultimately unfocused. It gets very good reviews from credible sources, and my brewery-fresh sample left me satisfied, but I preferred several other pilsners that beautiful day.
16. Narragansett Bohemian Pilsner (Providence, RI; 5.2 percent ABV)
Caramel malt upfront is quickly offset by strong, astringent hops. I love Narragansett beers and drink a ton of this one, so I was hoping it would land higher, but made-up facts are made-up facts, and 'Gansett Pilsner finished in the middle of this strong pack.
15. Boulevard KC Pils (Kansas City, MO; 4.8 percent ABV)
This is malty and balanced, though slightly to the sweet side for the style, with a clean graininess and adequately hoppy finish.
14. Left Hand Polestar Pilsner (Longmont, CO; 5.5 percent ABV)
This smells a bit like cheap, sweet grain, but that's balanced by a good pepper kick in the drinking. Polestar is one of the smoother pilsners I've tried. If I were some half-assed tier-maker rather than a dedicated listiclist, this is where the "very good" tier would begin.
13. Firestone Walker Pivo Pils (Paso Robles, CA; 5.3 percent ABV)
They call it a hoppy pilsner right on the label, which I suppose is an honest way to cheat. Stylistic quibbles aside, this is delicious, because all Firestone Walker beers are.
12. Great Divide Nomad (Denver, CO; 5.4 percent ABV)
Nomad shows off biscuity malt before an excellent and sharply dry finish.
11. Avery Joe's Premium American Pilsner (Boulder, CO; 4.7 percent ABV)
A dried citrus nose leads into a very strong raw wheat taste that's undercut by crazy tropical fruit, like kiwi or mango or one of those things you never actually eat and can only identify by their hard-candy versions. The only thing keeping this out of the Top 5 is a biting, metallic finish. (Yeah, it only comes in a can; yeah, I'm the guy who said cans are better than bottles.)
10. Samuel Adams Noble Pils (Boston, MA; 4.9 percent ABV)
This is pleasantly citrusy and altogether more flavorful than the average craft pilsner. It's hoppy for the style, but not to the point of inauthenticity. This is my favorite Samuel Adams beer.
9. Notch Session Pils (Ipswich, MA; 4 percent ABV)
I'm biased toward this local Massachusetts product, but I tried to account for that in my ranking. I think this is an objectively fair spot for a pilsner with a firm candied lemon flavor balanced by an interesting astringency that reminds me of the thing some idiots don't like about cilantro. Notch Pils isn't for everyone, but it's for all the folks I care to associate with.
8. Half Acre Pony (Chicago, IL; 5.8 percent ABV)
This smells like sweet cream and black pepper in the manner of a hip-ass ice cream flavor that works better than it should. The strong pepper character makes for a very flavorful pilsner, especially for one that doesn't rely on overt hop abuse.
7. Sixpoint The Crisp (Brooklyn, NY; 5.4 percent ABV)
Sixpoint doesn't believe in traditional beer styles, and good for them, but most beer taxonomers call this a pilsner. The Crisp has a very pretty floral nose and a wheaty, grassy, lemony flavor. Now we're getting into "great" territory.
6. Victory Prima Pils (Downingtown, PA; 5.3 percent ABV)
I feel like one of those wine weirdos saying this, but I honestly think I smell sweat coming off Prima—but nice sweat, like after a good-looking, well-rested person runs a leisurely Sunday morning 5K for your favorite charity. The taste is floral and peppery (I don't know where that sweat went. Back into my upper lip whence it came?), and there's a West Coast hop fruitiness to the finish. This is a lot of tasteful people's favorite pilsner. They're wrong, but just barely.
5. Peak Organic Fresh Cut (Portland, ME; 4.7 percent ABV)
This Maine brew is dry-hopped with Chinook, Citra, and Centennial, which is verging on cheater territory, but I let it slide because it's still a moderately hoppy, honestly balanced pilsner. It opens sweet and funky, with the funk almost hinting at skunk, but in a good way. There's a thin layer of lemon and grapefruit before the medium-bitter, slightly smoky finish jumps nicely down your throat.
4. Schell's Pilsner (New Ulm, MN; 5.3 percent ABV)
The elaborate open showcases an almost grapey fruitiness along with gently floral hops before revealing a rich, pure barley character that leads to a dry, hoppy finish that almost stings at first, but then mellows out as it sticks around longer than most good pilsners.
3. Jack's Abby Sunny Ridge (Framingham, MA; 5.1 percent ABV)
This lovely number is one of the better-looking beers in its class, with a simultaneously bright and hazy golden body and a fluffy white head. It smells like bready malt and grassy pepper. The taste is clean and assertive, with the big barley character augmented by strong, dry hops on the finish.
2. Deschutes Pine Mountain Pilsner (Bend, OR; 5.2 percent ABV)
This one shows a spicy lemongrass nose, a bold hop bite all the way through, and a longer, crisper finish than most. Deschutes Pine Mountain Pilsner is fantastic.
1. North Coast Scrimshaw Pilsner (Fort Bragg, CA; 4.4 percent ABV)
Scrimshaw has a deep orange-tinted honey color, aggressive carbonation, and more body than its peers. It displays excellent balance, with a floral-citrus opening tilting slightly malty through the middle before the dry, tingly finish. This is remarkably well-rounded for a 4.4-percent-ABV pilsner, and I can't recommend it highly enough.
Will Gordon loves life and tolerates dissent. He lives in Cambridge, Mass., and has visited all of the other New England states, including, come to think of it, Vermont. Find him on Twitter@WillGordonAgain.
Image by Sam Woolley, photos via Shutterstock.

The Concourse is Deadspin's home for culture/food/whatever coverage. Follow us on Twitter:@DSconcourse.