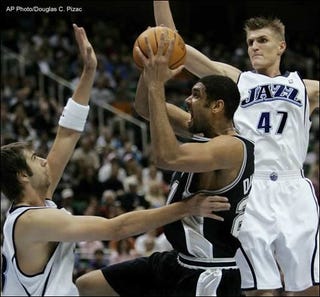 For those of you who haven't yet boycotted the NBA Playoffs, the Western Conference Finals are getting underway in about a half-hour. The Jazz head to San Antonio to take on the Spurs in a battle of teams who beat teams that most people liked a whole lot more than either of these teams.
Most people out there seem to fall in to the "The Spurs Are Evil" camp. The Sports Frog is aboard that train, and the lovable Paul Shirley compares rooting for the Spurs to rooting for cancer. A dissenting viewpoint can be found at The Airing of Grievances, and Free Darko's seeing some value in the Spurs, too.
It would be nice if the Jazz were able to steal this one today, wrestle away home court advantage, and eliminate some of that "the Spurs are invincible" vibe.
This Sucks (and David Stern Can Still Go Eff Himself) [The Sports Frog]
The Phoenix Suns Make Me Sick [The Airing of Grievances]
Paul Shirley: 'Rooting for the Spurs Is Like Cheering for Cancer' [NBA FanHouse]
The New Racism [Free Darko]