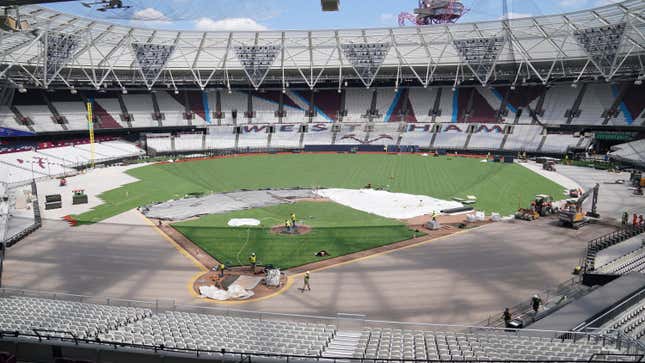 Serious question: If you underwent a bunch of plastic surgery, how eager would you be to show off the new goods? Even though the boob job is lopsided, the calf implants didn't take, and your face literally can't smile through the botox, you'd be on the first plane to Europe, too. Well, that's MLB right now. They just purged, primmed, and lifted every sagging portion of loose skin, and are ready to shove their self-improvement in the face of Londoners regardless of whether the UK asked for it.
Kyle Schwarber did something that's only been done 11 other times in MLB history | Stats That Will Blow Your Mind
The St. Louis Cardinals and Chicago Cubs are playing a series in Piccadilly Square or some other tourist trap this weekend, and the only people who care are the NL Central fans who got docked a rivalry series after already getting docked rivalry serieses due to MLB's added interleague play.
However, per American standards, if a company's bottom line isn't growing, the company is dying.
"The UK has really been identified for us, London in particular, as the jumping-off point for us to get into Europe," said Chris Marinak, MLB's chief operations and strategy officer. "We feel like we proved that out in 2019. By coming back and having a really strong showing ... we're going to have the opportunity to really make some headway for growth both in the UK and throughout Europe."
Marinak's nod to 2019 was the last time MLB held games in London — a New York Yankees-Boston Red Sox showcase that was forgotten shortly thereafter — but had I not just given you context, Marinak's quote reads like the league is planning a full-scale invasion of Europe to get it back under Allied control.
The sport is on life support, so why not spread it thin?
It's an open secret that MLB doesn't resonate the way it used to, and I'm not even talking about in the old-timey way when the family would gather around the radio to listen to Willie Mays play. I'm talking about 2004 or 2016 when the Boston Red Sox and Chicago Cubs set free the hearts of their suffering fans, respectively.
There's not a longstanding drought, or a tortured fan base lurking to elate casual observers right now. The closest is Cleveland, but they've been renamed the Guardians, and while that's a good thing, new is an antonym of longstanding. Also, I'm not sure anybody cared about Cleveland in the first place.
No slight to Ohio's second-largest metropolis. It's not the city's fault that the public loves shitting on them. (I'm from Nebraska, so I sympathize.)
The Cubs-Cards series could be objectively dogshit — one team is in last place in its division, and neither club is above .500 — and the coverage will still be glowing. That said, no amount of revenue increase is going to fix the product. Pitch clocks, shift bans, and the rest of the recent alterations are in their infancy stages, with more changes on the horizon, and I'm not sure how MLB expects new fans to learn a game that's currently under construction.
Appeal to your actual international audience
Baseball is popular in the Caribbean and a few Asian countries, yet those aren't as "lucrative" as Europe — at least not in the eyes of the people who run baseball. There's not a ton of overlap between baseball and soccer like there is with basketball, so onlookers won't be able to pick it up as easily or naturally.
The closest facsimile to baseball, outside of softball, is cricket, so perhaps those fans would be easier to pitch the sport to? I don't know. Both sets of rules are weird, and going to India or Australia poses the same challenges as traveling to the UK.
"We've really focused on looking into Europe as once a year, maybe max twice a year ... just because it's such an effort to get over there, and it doesn't really fit into the normal cadence of the major league schedule, but we really do think it's important to bring live game content to the market," Marinak said (via ESPN).
Oh, no shit? It's not realistic to fly clubs across the Atlantic for a weekend series in the middle of a 162-game schedule in order to sell a few more jerseys, but MLB is going to shoehorn it in anyway? Cool.
There's a golden opportunity to do a few series per year in the Dominican Republic, Puerto Rico, or any of the other island nations (or US territory) that have produced many of the game's biggest and most recent stars. Very few sports fans in general, much less in Europe, asked for this. Cubs-Cards isn't filling a void; this is a business plan, and one that I wish other outlets wouldn't blindly cape for.
It's great that COVID is over and Rob Manfred has made moves to keep the violet from continuing to shrink. Be that as it may, baseball still has a litany of issues that need addressing, and none of the answers will be found overseas.