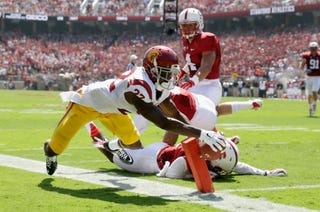 Seven times, Stanford ventured inside the USC 35-yard-line, and in those seven trips, they picked up an average of 1.43 points. Advanced metrics say that is bad. They fumbled four times, all in USC territory, and lost two of them. In fact, the game ended when Stanford fumbled one last time inside the USC 35.
It was not a pretty game, and if you wanted to be mean about it, you could even say it was a little B1G-ish. But it was close, it was competitive, the defense was bruising, and it featured some bizarre behavior from a possibly unhinged athletic director. I'm not complaining.
Forthcoming, we still have Oregon vs. Michigan State, Notre Dame vs. Michigan, and whatever late night madness Hawaii will provide. Enjoy, everybody.