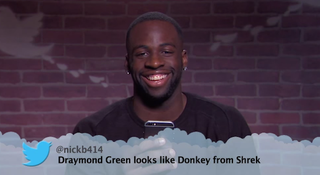 Once again, Jimmy Kimmel rounded up an assorted cast of NBA players to read mean things about themselves. Highlights include Draymond Green, Zach Randolph, and Steph Curry, who unintentionally made fun of his coach Steve Kerr.
Worth nothing: Jeff Van Gundy's tweet (which wasn't even mean) was sent by Ohio-based rapper Stalley.
---
Contact the author at samer@deadspin.com.