Last night, basketball's best teeny-tiny point guard Steph Curry went up against the sexy pick to usurp him as league MVP, Anthony Davis, and put in the most impressive performance of this young season. He dropped 53 points on just 27 shots in 36 minutes, which is a gaudy efficiency, but remarkably, it's about what he's been doing in every game so far.
Here's Davis, switched onto Curry, even poking the ball away, yet still defenseless.
Curry also gave out nine assists to his teammates, which accounted for 23 points. The best was this behind-the-head whip to Harrison Barnes out of a three-man trap.
G/O Media may get a commission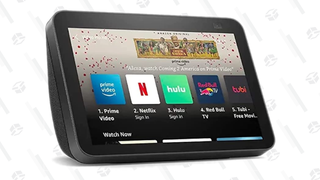 Even without Steve Kerr and Andrew Bogut, the Warriors look formidable. Curry is playing fast and loose out there, which somehow makes him more dangerous and liable to try geometrically ambitious passes and launch 35-footers. It's great for the team and the viewing public both.
Photo via Getty