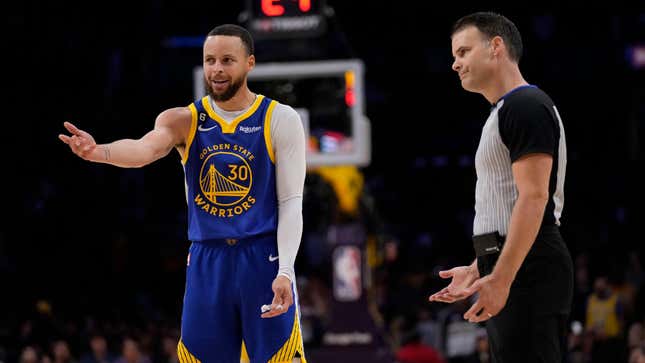 On the verge of embarking on his 15th season, Steph Curry is enjoying the last mile of his NBA prime. The ascendance of Curry was the NBA's nuclear fission breakthrough. He is a player whose ability to knock down the 3-pointer with so much efficacy that he opened up our basketball brains beyond the 10 percent humans were using prior to his emergence. In a surprisingly brash moment during an appearance on Gilbert Arenas' podcast this week, the 2-time MVP went further by naming himself as the pharaoh in the NBA's point-guard pyramid.
Who will be the NBA Finals MVP? | The Weigh In
When pressed by Arenas about his place among point guards, Curry gave Magic his due, but stuck his chest out and confidently added that he'd take himself as the best point guard ever.
In doing so, he set off a volcanic rush of debates that missed the mark. Recency bias is a helluva drug, but let's get this out of the way early. If you classify Curry as a point guard, he doesn't quite stack up to the PG GOAT. Magic has lived one of the most blessed lives of any athlete who's ever existed. If you include his post-playing career, it's not even close, but let's stick to basketball. One of the reasons Magic is typically downgraded as the supreme point guard is that it's more difficult to associate him as a statistical outlier.
Curry is the 3-point king, Kareem Abdul-Jabbar held the career-scoring crown, Olajuwon is the lord of the swat because the record books failed to capture Bill Russell's greatness (although estimates based on available data indicate that he averaged six to eight blocks a game), Jordan and Wilt Chamberlain are the only players to average 30 points per game. However, John Stockton eclipsed Johnson's career assists record a few years after he retired and then proceeded to place it outside human reach. Magic isn't associated with quantitative superiority. If he'd been able to play into his twilight years instead of retiring after contracting HIV, there's no telling if he would have been able to put that record out of Stockton's reach.
However, what he did through the '80s and early '90s is undeniable. Entering the NBA as a 19-year-old national champion, Magic stormed out the gates and added 13 regular season wins to a 47-35 Lakers squad and won a title in his rookie campaign. By the end of the decade, he'd redefined the point guard position and spawned an entire generation of point forwards.
Magic was the biggest pure point guard the NBA has ever seen. Among players who are 6-foot-4 and shorter, Curry is in his own lane. Jerry West, Isiah Thomas, Allen Iverson are probably the greatest NBA players ever who measured below the 6-foot-4 division. Curry's accolades make him the valedictorian of his class, but it doesn't make him the greatest point guard ever. Unfortunately, Curry is an open-wheel car on a NASCAR oval. He entered the wrong race.
Kobe or Curry?
I'm actually not even sure we can classify Curry as a point guard. His size and ball handling tell us that he's a point guard. However, he's always been a more atypical lead guard than the point god distributor archetype that Magic encapsulated. They functioned entirely differently on the floor. Magic utilized his towering size to back down defenders and throw passes at angles that defied logic. Curry either shoots from unfathomable distances or uses the gravity he's created to break down defenses off the dribble or penetrate and dish to weak points he's created.
There are several ways to play the point guard position, but Curry's game is more like a Dwyane Wade or Kobe Bryant's than Magic's. After winning his fourth title, the conversation around Curry should have begun veering towards his placement beside Bryant on the NBA's Mount Olympus. His two MVPs, four titles, and relentless scoring prowess draw more apt comparisons to Bryant's career arc than Magic's. Curry is magic, but he is more comparable to Black Mamba.
Curry is a shooting guard who masquerades as a part-time point guard in Golden State's system. He's never led the league in assists or even averaged double-digit helpers. Draymond Green was their primary hardwood quarterback during those championship seasons. Even Jerry West logged more assists per night than Curry. When was the last time anybody threw him on a list of 2-guards? He might work seamlessly playing alongside Chris Paul this season in Golden State. Paul is probably two seasons away from surpassing Jason Kidd's spot on the career assists leaderboard. Curry is outside the top 40 in career helpers and 600 behind Bryant.
In 2012, Stanford senior Mutha Alagappan introduced a paper at the MIT Sloan Sports Analytics Conference that expanded our definition of player positions beyond the five positions we know. However, for the sake of this argument, 13 positions are too many, but his "shooting ball-handler" classification captures the style of positionless guards that Curry belongs to in terms of style rather than outdated lineup designations. Harden is the closest thing to a player who intersects multiple positions. Among "shooting ball handlers," Jordan is in his own plane of existence, but Bryant and Curry are just outside the penthouse as the only other guards to serve as the impetus for dynasties.
Like Kobe, Curry's career was interrupted by more obstacles than Magic's hallowed career. Curry faced more adversity early. Curry wasn't named to his first All-Star Game until he was 25 going on 26. Magic was an All-Star starter as a 20-year-old rookie. Curry had to overcome his small stature, both in length and weight. The knock on Curry during his first few years in the league was that he was too frail and not enough of a playmaker to thrive as a full-time point guard. Curry's lows after Durant's departure were comparable to Bryant's uphill battle after his falling out with Shaq. Both managed to scale the championship mountain again as slightly different athletes. Bryant was more cerebral by 2009 and Curry had transformed his body in the weight room.
Per 100 possessions, Bryant averaged 35.8 points for his career, coupled with 6.7 assists on a .55 true shooting percentage. Using that same metric, Curry has registered 34.9 points with a .627 true shooting percentage and 9.2 assists per game. And in case you were wondering about Jordan's averages, they were 40.4 points, a .569 shooting percentage, and 7 helpers per night. He has indisputably been one of the elite scoring guards of all time. They're the only guards to operate as driving forces behind dynasties.
We know Curry for his unique scoring prowess. Curry changing the game may endure longer than the more nebulous Mamba mentality and Bryant's obsessive pursuit of Jordan. 18-time All-Star, winning four All-Star MVPs, was named to 12 All-Defensive Teams, earned 15 All-NBA Team honors, and of course won five titles. If Bryant had not torn his Achilles, and if Commissioner Stern hadn't revoked the ill-fated Chris Paul trade, he probably would have been able to squeeze one more title out of his late prime. Curry shouldn't be chasing Magic. Kobe is his actual historical nemesis. As we sit here on what would have been Bryant's 45th birthday, it's vital that we don't allow him to slip from the basketball discussions he belongs in.
---
Follow DJ Dunson on Twitter: @cerebralsportex