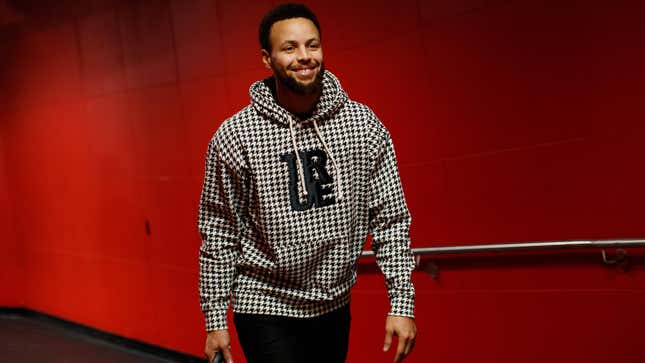 Relax. The Golden State Warriors are fine despite their apparent demise, which has been declared by a particular sector of the NBA community. A sluggish start to the season, coupled with a Steph Curry injury that caused him to miss 11 games, is part of the reason some fans and media personalities had all but written the defending champs off barely halfway through the season.

Jordan Poole ruins Golden State Warriors comeback and… we're being too hard on him | Keep it a Buck(et)
According to Kendra Andrews of ESPN, Curry will return Tuesday night at home against the Phoenix Suns. Golden State has been phenomenal at home whether Curry played or not, boasting a 17-4 home record. Away from Chase Center is where the Warriors need much improvement, with a 3-16 road record.
Despite their struggles, Golden State is 20-20 and had climbed up as high as sixth place in the west while Curry was out. They enter tonight's game with Phoenix in the same spot, but with much optimism seeing their leader make his return. The Warriors went 6-5 while Steph was gone, and they are only 2.5 games behind fourth-place Dallas.
What does Steph's return mean for Golden State?
This Warriors team will be good and undoubtedly be in the mix during the second half of the season, barring anything catastrophic. Last season they struggled between January and March while Draymond Green was out. Now they're getting the rough patch out of the way early. The NBA season is long, and you can't count out a team with the championship pedigree of the Warriors, no matter how bad it may seem.
If you counted the Warriors out, you've probably been waiting on their downfall like Charles Barkley. Or you root for a fan of a rival team (Phoenix Suns), or you're just ready to hate on Golden State whenever the opportunity arises. Either way, you're about to be disappointed. They will again be in the thick of the western conference race, led by Curry, Green, and Klay Thompson.
Curry's minutes will likely be monitored heavily during his first few games back, but his impact on the team will surely be felt. Even when he's shooting poorly, Curry is such a lethal scorer that teams must account for him whenever he's on the court. His mere presence on the court opens things up in too many ways for opponents to handle. The Warriors have barely been mediocre for 40 games, and they're a .500 team. Once they put it all together once again, the association is in trouble.