News broke shortly after midnight July 1 that Golden State would sign Steph Curry to the full 10-year Designated Player Veteran Extension, a five-year contract worth something like $201 million.
This is notable for a couple reasons, not the least of which is this is the first time in Steph's career that he will have signed a max contract. But it's also notable for how, at more than $40 million per season, Steph might still be considered underpaid:
That projection, and a similar one by Kevin Pelton that shows Steph might be worth as much as $315 million over five seasons, use the value of raw production and the relationship between raw production and wins to calculate a player's value in the modern NBA. From Pelton's piece:
Returning to Curry, we now have a range for what his production is worth. Adding in the $1.5 million veterans minimum — the value of a player with zero WARP — Curry's [projected] 19.2 WARP translates into somewhere between $53 million and $63 million in 2017-18. That's at least $19 million, and up to $29 million, more than even the super-max will pay Curry.

In a version of the NBA with no player maximum salary but the same salary cap, it's tough to say whether Curry and other superstars would be able to capture their full value. Paying him $63 million would leave a team just $36 million to fill out the rest of its roster — which still might be worth it, given the possibility of adding to the core using exceptions in future years.
G/O Media may get a commission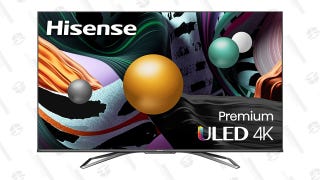 Save $350
Hisense ULED 65" Android 4K HDR Smart TV
And those numbers might still undersell Curry's value to the NBA and the Golden State Warriors! The Dubs are moving to a new arena in San Francisco by the start of the 2019-2020 season; the Golden State Warriors top all teams in merchandise sales; Steph Curry's jersey is the most popular of all NBA players; the Warriors had the highest average cable TV ratings both last season and this season; Joe Lacob bought the Warriors in 2010 for $450 million; in 2014 Steve Ballmer bought the Los Angeles Clippers for $2 billion; NBA teams are selling jersey patch sponsorships in the range of $4 million to $10 million per season; the Warriors are reportedly seeking a deal in the range of $15 million to $20 million per season. Steph Curry's brilliance has made the Warriors into a franchise with unimaginable value, and his Warriors are by far the most popular product in the NBA today.
$201 million is a lot of money, but it might be only something like half of what Steph Curry is really worth.