Okay, yes, maybe he gets points deducted for pulling this move during a game against the pitiful Suns, but Warriors head coach Steve Kerr did something genuinely cool and unexpected last night: he let his players run every timeout huddle. The Warriors won 129-83.

Andre Iguodala, David West, and Draymond Green took turns leading the huddles while Kerr and his assistants stayed out of their way. After the game Kerr explained that he took a backseat to try and get his team, which has been in a mild slump lately, more engaged. From ESPN:
"I thought the players responded really well. I just feel like when we're focused, we are really tough to beat, and tonight we were focused. And I think just having to count on each other, and not hearing my voice — which sort of sounds like Charlie Brown's teacher or parent or whoever's voice that is. At this point, that's what I sound like to them. So, they needed a different voice."
Kerr also went out of his way to explain to Suns head coach Jay Triano that he meant no disrespect to Phoenix, and Triano told reporters after the game that he didn't have a problem with what Kerr did. Suns forward Jared Dudley, however, was feeling a bit more prickly about it:
G/O Media may get a commission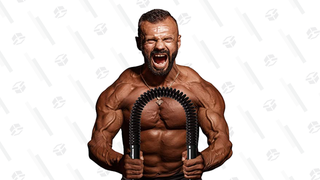 10% off
Zenooze Boa Power Twister
It's nice to see a professional coach willing to loosen his grip on the players a little a bit and try something new, particularly while putting himself at risk of looking entirely superfluous. Now, if Kerr wants to be a true badass, he'll do this the next time the Warriors play the Rockets or the Thunder.