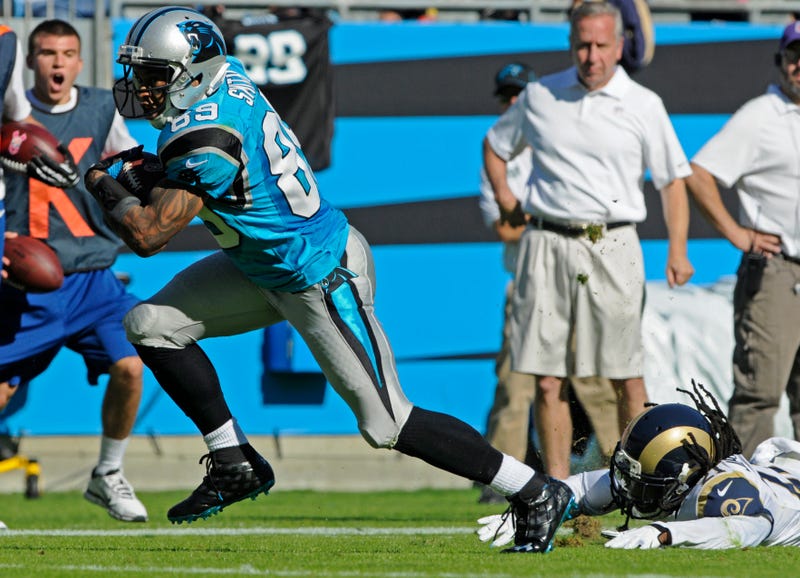 Carolina WR Steve Smith is no stranger to trash talk, so his nasty matchup with Rams CB Janoris Jenkins was nothing new. But afterwards Smith was in rare verbal form—it looks like someone finally got under his skin.
The Charlotte Observer has printed some of Smith's postgame interview transcript.
What was the dance you did? "Well he thinks he's Deion (Sanders). He's not."

To get your 800th catch against him… "He's just another notch on the bedpost. That's 800. He ain't no different."

[...]

Did you have any run-ins with him before? "No. What I don't like is a young guy, comes in, obviously his first time ever using the internet and Google, and he Googles information about me, talks about my wife and stuff like that. That's kind of some of the (B.S). I just don't play with."

What specifically was he saying? "That's all I'm going to say. I don't play them games. When you try to take it personal like that, I don't have any great humbling things to say. So he can take his (butt) back to St. Louis and watch the (expletive) film because I don't play them games. And if I see him in the streets I'm going to punch him in his (expletive) mouth.

On your touchdown celebration, was that a little bit extra? "When you embarrass people you rub it in their face. When your dog (urinates) on the carpet, you rub it in his face."
The game was rife with penalties and scuffles, and St. Louis took the worst of it. This is what Steve Smith does, and he's very, very good at it.
[Observer]